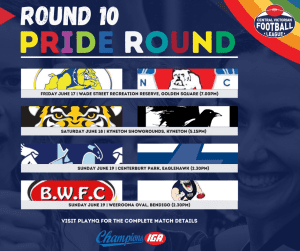 ALL of the Champions IGA-backed CVFL senior women's football teams will feature in this weekend's Pride Round action.
Each team will be wearing Pride Socks, in a celebration of diversity and inclusivity within the game and community.
Nathan Williams (AFLCV Female Operations Manager) said "AFL Central Victoria is proud to support Pride Round. Providing each club with Pride Socks recognises the importance the region places on every person feeling included and welcomed in the Central Victorian football environment. We are thankful our clubs are so welcoming to all female players wishing to join the football community."
The 10th round kicks off Friday night when Golden Square plays North Bendigo at Fur Life Oval in Golden Square's Wade Street from 7pm.
When these clubs last met in round two on April 9, Golden Square scored a 175-1 victory on North Bendigo's turf at Hibo Hotel Oval in Atkins Street.
In last weekend's play, Golden Square beat Strathfieldsaye, 58-14 under the Fur Life Oval lights.
In-form players for the Todd Deary-coached Golden Square include Keely Hare in attack, Charlotte Beavan, Jessica Cox and Liz Watkins.
A talented squad in blue and gold includes Andrea Wilson, Amanda Carrod, Bree Heiden and Michelle McCready.
It's been a tough run for the Ricky Crotty-coached North Bendigo which has had the bye the past two rounds after a 64-1 loss at home to Strathfieldsaye in the Indigenous Round match on May 29.
North Bendigo's best against Strathfieldsaye were Quetta Holloway-Jinks, Maddie Jelbart, Kacey Davis and Cassandra Coughlan.
The team in red, white and blue will also look to Teagan Stuchbery, Leonie Schulz and Kayla-Brea McIntosh to lead the way.
A highlight of Pride Round will be the Kyneton and Castlemaine match on Saturday at Kyneton Showgrounds.
The night-time showdown between the Tigers and Magpies starts at 5.15pm.
In round two, Castlemaine marked a 79-16 win against the Tigers at Camp Reserve.
The Phil Hawkes-coached Tigers have moved to the third rung on the ladder.
Before last weekend's bye, Kyneton had beaten Bendigo Thunder by 17 points at Tigerland, and won 42-35 on Eaglehawk's turf at Canterbury Park.
Key players in the run by the yellow and black include Teagan Ainslie, Marnie Love, Taylah Moore, Urusla van Dyk, Emma and Rachael Williams.
Castlemaine dominated the second half of last Sunday's match against Bendigo Thunder at Weeroona Oval to win by 43 points.
The Tiahna Cochrane-coached Magpies were down 15-25 at half-time, but then added 7.11 to nil in the second half.
Shelby Knoll kicked five goals for a season tally of 36 to lead the league's goalkicking race.
Players to watch for the unbeaten Castlemaine include Michelle Barkla, Emily Cooper, Tia Davidge, Jemma Finning, Meg Ginnivan, and Scarlett Orritt.
On Sunday, Eaglehawk is back at Canterbury Park to take on Strathfieldsaye.
The Hawks and Storm clash starts at 2.30pm.
The round two match between these teams ended in a 113-7 win for the Hawks on Storm's turf.
The Geoff West-coached Eaglehawk scored a 153-6 win in last Friday night's clash with Kerang at Canterbury Park.
Victory is a must for Eaglehawk to stay in touch with the fourth-placed Bendigo Thunder.
Best for the Two Blues against the Kerang Blues were Courtney Smith, Kelly Mensforth, Freyja Pearce and Molly Metcalf.
Others to watch include Jasmine Burzacott, Anya Cardilini, Lucy Dawe, and Olivia Murley.
Storm worked hard to be within three goals of Golden Square at half-time of last Friday's match.
In the second half, Square added 3.9 to a point.
Best for the Jake Donegan-coached Storm were Paige Panczel, Ireland O'Rourke, Eliza Long, Lucy Gorrie and Tracey Anderson.
The play of Lila Keck, Britt Tangey, Keisha Tonzing and Lana Westaway will be a key to Storm's chances.
Bendigo Thunder is back at Weeroona Oval to take on Kerang from 2.30pm on Sunday.
In round two, Thunder 104-nil at Kerang's Riverside Park.
Thunder and the Blues are both on the rebound from defeat.
Players to watch for the Jac Louttit-coached Thunder include Britney Mueck in attack, Brianna Burt, Jessicca Kennedy, captain Phoebe Cuttriss, Katelyn Hazlett and Hannah Perry.
The Stephen Arthur-coached Blues had Kendall and Zailie Ash, Jedda Birch, Yazmin Harrington, Jessica Searle and Rebecca Searle play well in the round nine match at Eaglehawk.
Champions IGA-backed CVFL senior women's footy ladder:
Castlemaine 841 per cent, 28 points; Golden Square 645, 24; Kyneton 178, 20; Bendigo Thunder 338, 16; Eaglehawk 207, 12; Strathfieldsaye 29, 8; Kerang 5, 4; North Bendigo 1, 0.
Leading goalkickers:
36 Shelby Knoll, Cm.
28 Britney Mueck, BT.
15 Meg Ginnivan, Cm.
13 Keely Hare, GS.
12 Shannon Prendergast, Kyn.
9 Jasmine Burzacott, Eh; Emily Collins, GS; Georgia Gordon, BT; Freyja Pearce, Eh.
8 Taylah Moore, Kyn.; Mia Ward, GS.
7 Ella Cochrane, Cm; Lily den Houting, Eh; Charlotte Edlin, Eh; Samantha Heron, Eh; Lily McNair, Cm.
6 Sharni Barker, BT; Charlotte Beavan, GS; Jessica Cox, GS; Tia Davidge, Cm; Michelle McCready, GS; Emma Williams, Kyn.
5 Emily Cooper, Cm; Phoebe Cuttriss, BT; Heidi Erasmus, Kyn.; Jemma Finning, Cm; Molly Metcalf, Eh; Andrea Wilson, GS.
Written by Nathan Dole.