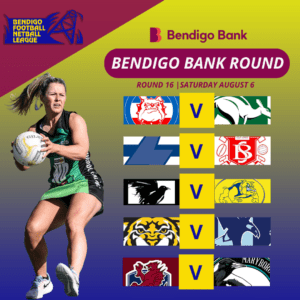 Huge game at Kyneton as Tigers take on Hawks
TOP five hopes Kyneton and Eaglehawk will rise or fall in Saturday's 16th round of senior footy in the Bendigo Bank Bendigo Football Netball League season.
A highlight of Bendigo Bank Round being played in footy/netball leagues under the AFL Central Victoria umbrella is the battle of the Tigers and Hawks at Kyneton Showgrounds.
Fifth on the ladder, Kyneton is on 32 premiership points and .64 per cent clear of the Hawks who also have an 8-7 record.
Both are feeling the heat from Sandhurst, 28 and 120 per cent, which lifted hopes after last Saturday's win at Eaglehawk's Canterbury Park.
The Paul Chapman-coached Tigers won the round seven clash at Eaglehawk by 21 points as Cameron Manuel kicked five goals to be among the best with Louis Thompson, Mitch Comben and Hamish Yunghanns.
Kyneton put in a superb effort in an 89-81 loss at Golden Square last round as Angus Nolte kicked five goals and Cameron Manuel added four.
The Hawks' defence also has to contend with the classy Rhys Magin who has kicked 60 goals to be second in the race for the Ron Best Medal goalkicking award.
Other key players for the yellow and black include Frazer Driscoll, Harrison Huntley and Louis Thompson in defence, Dean Bartrop and Guy Dickson.
Best last week, Ben Cameron was named in the Tigers team to face the Hawks.
Eaglehawk goes into this game without Noah Wheeler, suspended, and the injured Darcy Richards, but  still has plenty of skill and running power in the on-ball and midfield positions.
Key players for the Two Blues include Billy Evans, Joel Mullen, Liam Marciano, Dillon and Sean Williams, Joel Lawton and Ben Thompson.
The play of captain Shaun Knott, Dylan Hanley and Clayton Holmes in defence will be crucial to the Hawks' chances.
Separated by a point when they last met, Strathfieldsaye and South Bendigo clash on Storm's ground at Triple M Park in Tannery Lane.
Storm dominated last Saturday's match at Maryborough as Michelsen medallist and dual Ron Best medallist Lachlan Sharp kicked nine goals.
In round seven it was James Schischka who led Strathfieldsaye's attack on three goals in a 90-89 victory against the Bloods at the QEO.
A major strength of the Storm line-up is its on-ball division where experienced ruckman Michael Pilcher teams up with Callum McCarty, Jake Moorhead and Daniel Clohesy.
Versatility is also a key for the Darryl Wilson and Shannon Geary-coached Storm through the likes of Kallen Geary, Lachlan Gill, Harry Conway and Jack Neylon.
For the Bloods, Brock Harvey has had an outstanding season and will again be a major target in attack.
The Nathan Horbury-coached South Bendigo named Will Keck and Braydan Torpey in the key forward positions.
Fast leads and workrate at ground level are strengths of their game.
In defence the Bloods will look for big games from the likes of captain Zac Hare, Cameron Taggert and Andy van Heumen.
Last season's club champion in an on-ball role, Cooper Leon was named on a half-back flank.
Gisborne will be back on home turf at Gardiner Reserve to play Kangaroo Flat.
Bulldogs' captain Pat McKenna kicked 11 goals when these clubs met in round seven on the Kangaroos' ground at Dower Park.
The Gisborne attack is bolstered by the return of Ethan Foreman who has battled a hamstring injury for most of the season.
Key forward Jack Scanlon was named on the interchange bench for his return to the Rob Waters-coached team.
Ruckman Braidon Blake is in hot form and often provides first use for the likes of Seb Bell-Bartels and Flynn Lakey.
Not only does the James Flaherty-coached Kangaroo Flat face a task of trying to limit Gisborne's scoring, but also to create chances against a defence led by Jack Reaper and Liam Spear.
In a season where he has not had the scoring opportunities of opponents in higher-rated teams, Lachy Wilson has put in a superb effort to kick 32 goals for Kangaroo Flat.
Wilson, Max Johnson, Sam Barnes and Mitch Rovers will play key roles in the Roos' attack this round.
Kangaroo Flat led 73-46 when an early finish was called in the final quarter of the clash with Castlemaine at Dower Park last round after a serious arm injury to Jake Hywood led to an ambulance being called to the ground.
Hywood was named on the bench for the match at Gisborne.
The Roos will look to captain Nic Lang to lead the way in the ruck contests, Liam Collins and Kyle Symons at centre clearances, and for strong games in defence by the likes of Dion Symons, Dane Spear and Bryce Franzini.
Sandhurst takes on Maryborough at Queen Elizabeth Oval.
In round seven the Dragons won by 109 points at Princes Park as Matt Thornton and Joel Wharton kicked five goals and Cobi Maxted added four.
Sandhurst also takes the momentum of its final quarter burst at Eaglehawk to win by 19 points.
Key players for the Dragons include Hamish Hosking in the ruck, Jeremy Rodi in the centre, Zach Pallpratt and Lee Coghlan.
The rebound from half-back is led by Isaac Ruff, Liam Ireland and Noah Walsh.
Midfield contests are always a key on the wide expanses of the QEO.
The Rick Andrews-coached Maryborough will look to Tom Gardam, Coby Perry and Aidan Hare to have big games through the centre and on the wings.
Other key players for the Magpies are Chris Freeman and Brady Neill in attack, Kya Lanfranchi and Anthony Tatchell in defence, and onballers Jayden Hooper and Liam Latch.
Castlemaine and Golden Square clash in the Magpies' nest at Camp Reserve.
In round seven, Joel Brett kicked 14 goals in a big win for the Bulldogs.
A blow for Castlemaine going into this game is being without Zac Denany who kicked four goals in last Saturday's match against Kangaroo Flat.
A high level of defensive pressure will be a major focus for the Don Moran-coached Magpies.
A defence that includes Liam Wilkinson, John Watson and Kaleb McBride will be kept busy.
Callum McConachy, Tom Cain and Jack Chester were best for the Magpies last round.
It will be another big test for Sam Nettleton in the ruck against the experience Matt Compston.
There is plenty of goalscoring power in the Golden Square team.
Joel Brett and Jayden Burke are the key targets, but the Bulldogs also have Jarrod Fitzpatrick, Tom Strauch, Ricky Monti and Braydon Vaz starting in the forward 50m arc.
Michelsen medallist and multiple premiership winner Jack Geary just keeps on running and racking up possessions with ease.
Other players to watch in the blue and gold include Jake Thrum, Ryan Hartley, Liam Barrett and Terence Reeves, a Frank Harding medallist in Mitiamo's premiership winning run of 2019 in the Loddon Valley.
Bendigo FNL senior footy ladder:
Gisborne 269 per cent, 56 points; Strathfieldsaye 186, 48; Golden Square 236, 44; South Bendigo 101, 36; Kyneton 118, 32; Eaglehawk 117, 32; Sandhurst 120, 28; Kangaroo Flat 54, 16; Castlemaine 34, 8; Maryborough 25, 0.
Leaders in the Ron Best Medal goalkicking award race:
77 Joel Brett, GS.
60 Rhys Magin, Kyn.
48 Pat McKenna, Gis.
45 Lachlan Sharp, S'saye.
43 Jayden Burke, GS.
41 Brock Harvey, SB.
38 Cobi Maxted, Sh.
36 James Schischka, S'saye.
32 Lachy Wilson, KF.
31 Kaiden Antonowicz, SB.
30 Cameron Manuel, Kyn.
29 Josh Kemp, Gis.
27 Darcy Richards, Eh.
24 Matthew Merrett, Gis.; Braydon Vaz, GS; Joel Wharton, Sh.
23 Liam Marciano, Eh.
21 Matthew Panuccio, Gis.; Matt Thornton, Sh.
Written by Nathan Dole.