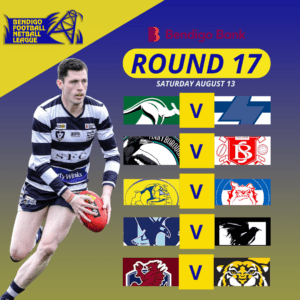 Huge matches for Bulldogs, Dragons and Tigers
MATCHES at venues just a few kilometres apart in the 17th round of senior footy will have a huge bearing in the lead-up to the Bendigo Bank Bendigo Football Netball League's finals series.
It's an all-Bulldogs showdown at Fur Life Oval in Wade Street as Golden Square hosts Gisborne.
Head east from the Bulldogs' kennel and it will be a massive showdown between Sandhurst and Kyneton at Queen Elizabeth Oval.
In round eight, Gisborne fought back from being down 25-8 at quarter-time to win 77-62 on its turf at Gardiner Reserve.
Third on the ladder on a 12-4 record, two of Golden Square's defeats were at home to Sandhurst and Eaglehawk.
The Christian Carter-coached Golden Square takes on top teams Gisborne and Strathfieldsaye in the final two rounds of the home and away series.
A powerful Golden Square attack led by Joel Brett, Jayden Burke and Braydon Vaz will test Gisborne defenders Adam Brancatisano, Liam Spear and Jack Reaper.
At the other end of the ground, Gisborne regains Josh Kemp to team up in the forward 50m with captain Pat McKenna, Matt Merrett, Ethan Foreman, Jack Scanlon and Harry Thomas.
It's a massive test for a Square defence led by Jon Coe, Liam Duguid, Will Lee and Zack Shelton.
The on-ball and midfield battles will be a highlight.
The Bulldogs have ruckman Matt Compston, captain Jack Geary, Ryan Hartley and Ricky Monti to start in the centre square against Ben Eales, Nic Doolan, Flynn Lakey and Luke Ellings.
Midfielder/forward Hamish Morcom plays his 150th game for Golden Square.
Morcom's running power and skill will test Gisborne all match.
Other players to watch in the blue and gold include Jake Thrum on a wing, Terence Reeves, Tom Strauch and Liam Barrett.
In-form players for the Rob Waters-coached Gisborne include Seb Bell-Bartels, Macklan Lord and Scott Walsh.
Sixth meets fourth as Sandhurst and Kyneton clash on the QEO.
The Dragons start this match a win behind, but more than nine per cent in front of the Tigers.
Whoever wins this match is likely to seal top five spot as Sandhurst plays at Castlemaine in round 18 and Kyneton is at home to face Maryborough.
In round eight it was some Rhys Magin magic and the vocal Tiger Army which roared loudly in a 73-62 win against Sandhurst at Kyneton Showgrounds.
Magin kicked six goals in that match and looms as a major danger to the Dragons, along with Ben Cameron, Cameron Manuel and Angus Nolte.
In-form players for the Paul Chapman-coached Kyneton include onballers Dean Bartrop and Hamish Yunghans, and defenders Frazer Driscoll and Harrison Huntley.
The Tigers will also look to James Orr to compete strongly in the ruck and for Guy Dickson, Steven Georgiou and Ben Xiriha to apply plenty of pressure.
Since the loss to South Bendigo in the 12th round, Sandhurst has a win-loss tally of 3-1.
The Ash Connick-coached Dragons have plenty of big-game experience through the likes of Lee Coghlan, Blair Holmes, Jake McLean, Brodie Montague, and Alex and Joel Wharton.
Sandhurst's attack which has the marking power of Cobi Maxted and Jake Wilkinson, and elusiveness of Joel Wharton and Lachlan Zimmer will test Kyneton in every quarter.
Ruckman Hamish Hosking was the Dragons best at Kyneton in round eight and will again play a key role, along with James Coghlan, Tanner Nally, and the rebound of Liam Ireland and Noah Walsh from the half-back line.
Eaglehawk returns to Canterbury Park to take on Castlemaine.
A point separated the Hawks and Magpies at Camp Reserve in round eight.
The Borough's best in a 70-69 win were Sam Thompson, Dillon Williams, Joel Mullen and Billy Evans.
The Travis Matheson-coached Eaglehawk will want to bounce back from a disappointing loss at Kyneton.
Key players for the Two Blues include ruck-rover Noah Wheeler, Liam Marciano and Cam McGlashan in attack, Clayton Holmes and captain Shaun Knott in defence.
The Don Moran-coached Castlemaine will also be fired up after being held to a goal in last Saturday's home game against Golden Square.
Best for the Magpies in the previous showdown with Eaglehawk included Riley Pedretti, Will Moran and John Watson.
Castlemaine named Bailey Henderson as ruck-rover which if he plays will be a huge boost.
Other key players for the Pies include Liam Wilkinson and Jackson Hood in defence, Brad Keogh and Zac Denahy in attack, Declan Slingo in the centre, and ruckman Sam Nettleton.
Kangaroo Flat is on home turf at Dower Park to take on Strathfieldsaye.
It will be a massive test for the Roos' defence and onballers to stop Storm's attacking onslaught.
The Roos played at Gisborne last round where Ethan Roberts, Bryce Franzini, Ryan O'Keefe, Mitch and Liam Collins, and Xavier Dingfelder-Hope were best.
Major focus for the Roos will be its pressure and workrate at stoppages.
The play of ruckman Nic Lang, Patrick Murphy, Campbell Smith and Kyle Symons will be crucial.
Key forward Lachy Wilson is out, so there will be more pressure on Max Johnson, Tom Hartney, Mitch Rovers and Dane Spear in the Roos' attack.
Storm's James Schischka kicked nine goals against the Roos last time and is part of a powerful forward line that includes captain Lachlan Sharp, Harry Conway and Callum McCarty.
In-form players for the Darryl Wilson and Shannon Geary-coached Storm include centreman Jake Moorhead, Lachlan Gill, Riley Clarke, Baxter Slater and wingman Daniel Clohesy.
A highlight will be contest between two of the league's most experienced ruckmen in Nic Lang and Michael Pilcher.
Maryborough and South Bendigo clash in the Magpies' nest at Princes Park.
In round eight, Maryborough made a great start to be within 26 points of the Bloods at half-time before South Bendigo kicked away to win 102-51 at the QEO.
A goal for the Rick Andrews-coached Maryborough will be to not allow the Bloods to dominate play for long periods of time.
At times this season the Magpies have conceded seven or eight goals a term and not scored.
It happened last round when Sandhurst scored 7.6 to nil in the second term.
Maryborough's leading goalkicker was Chris Freeman on two.
Liam Latch, Aidan Hare, Jake Postle, Chris Freeman, Lachie Mackie and Mitch McClure worked hard for Maryborough.
A Magpies' defence that includes Kya Lanfranchi, Dylan Harberger and Jake Postle takes on Bloods' forwards Brock Harvey, Kaiden Antonowicz and Will Keck.
On-ballers Liam Latch and Aidan Hare have had outstanding seasons for the Borough and will be fired up to play well against Liam Byrne and Michael Herlihy.
The Nathan Horbury-coached South Bendigo has plenty of run from defence and in midfield through the likes of Braydan Torpey, Zac Taggert, Sam Langley and Cooper Leon.
Maryborough coach Rick Andrews will look for big games from Chris Freeman, captain Coby Perry, Jayden Hooper and Patrick Van der pol.
Bendigo FNL senior footy ladder:
Gisborne 281 per cent, 60 points; Strathfieldsaye 188, 52; Golden Square 48, 258; Kyneton 119, 36; South Bendigo 96, 36; Sandhurst 128, 32; Eaglehawk 114, 32; Kangaroo Flat 51, 16; Castlemaine 31, 8; Maryborough 25, 0.
Leaders in the Ron Best Medal goalkicking award:
87 Joel Brett, Gs.
62 Rhys Magin, Kyn.
55 Pat McKenna, Gis.
50 Jayden Burke, GS.
49 Lachlan Sharp, S'saye.
44 Cobi Maxted, Sh.
43 Brock Harvey, SB.
37 James Schischka, S'saye.
35 Cameron Manuel, Kyn.
33 Kaiden Antonowicz, SB.
32 Lachy Wilson, KF.
29 Josh Kemp, Gis.
27 Darcy Richards, Eh; Braydon Vaz, GS; Joel Wharton, Sh.
26 Matt Merrett, Gis.
23 Liam Marciano, Eh.
21 Matthew Panuccio, Gis.; Harry Thomas, Gis.; Matt Thornton, Sh.
20 Lachlan Zimmer, Sh.
19 Chris Freeman, Mb; Kallen Geary, S'saye; Michael Herlihy, SB.
Written by Nathan Dole.