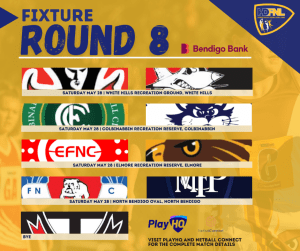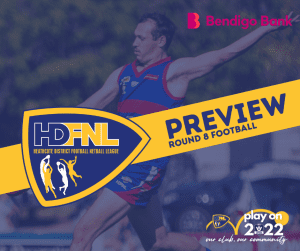 MATCHES at Colbinabbin and North Bendigo highlight this Saturday's eighth round of senior footy in the Bendigo Bank Heathcote District Football Netball League.
It's the showdown of the unbeaten Colbinabbin and Lockington Bamawm United on the Grasshoppers' turf at M.J. Morgan Reserve in Colbinabbin.
Another big game will be third against fourth as Mount Pleasant makes the trek to North Bendigo's ground at Hibo Hotel Oval in Atkins Street.
The unbeaten run of the Grasshoppers and Cats is on the line.
For the Julian Bull-coached Colbinabbin this Saturday's match is the first leg of a daunting double as the Hoppers take on the Cats and then play Mount Pleasant at Toolleen in round nine.
Colbinabbin's confidence will be high on home turf against an LBU line-up that has conquered fierce challenges from Mounts and North Bendigo the past two rounds.
James and Jed Brain have kicked 22 and 21 goals in Colbo's winning run.
Add in the likes of Clint Shields, Stephen Tuohey and Luke Moore and the Hoppers have an attack to test LBU all match.
Colbinabbin will look to ruckman Hadleigh Sirett, Ben Southam, Ben Barton, Laine Fitzgerald and Will Lowe to have a major influence on the game.
The Grasshoppers' defence led by Matt Riordan, Thomas Hill and Hugh McMurtrie faces a huge task against the likes of Rhys Woodland, Anthony McMahon and Jarod Bacon.
LBU overcame a 16-point deficit at the start of the final quarter to score a 10-point win against North Bendigo.
Best in the Cats' latest victory were key defender Charlie Hinks, Thomas Leech and Joss Howlett.
Brilliant teamwork and fighting spirit have been two key factors in LBU's dominant run throughout 2021 and this season.
Key players for the Cats include Nathan Bacon, ruckman/forward Tyler Phillips, Jesse Collins, Jeremy Mundie and Riley McIvor.
Pressure will be high as North Bendigo tackles Mount Pleasant.
The Robert Bennett-coached Bulldogs are a win and more than 60 per cent behind the third-placed Blues.
North Bendigo put in a great effort at Lockington, but the challenge is to put in another strong performance and take the points against Mounts.
The Bulldogs have rarely been beaten on home turf across the past four seasons as Aarryn Craig, Jordan Ford, Jeremy Lambden, Lachlan Ford have played key roles in the winning run.
An attack led by the marking power of Dylan Klemm, Matt Gray and Jordan Ford, and the skilful Storm Giri at ground level will test the Blues.
Biggest challenge for North Bendigo will be stopping the supply to a Mount Pleasant attack where Ben Weightman has dominated in many matches.
The play of key defenders Lachlan Ford and Shane Harris will be vital to the Buldogs' chances.
In midfield the Blues have Chris Down, Adam Baird and Billy Mahony to take on Lambden, Craig and Nathan Newlan.
The Blues' squad jointly coached by Darren Walsh and Adam Baird includes Bryce Hinneberg, Bailey and Fletcher White, Zane Keighran, Zac Featherby and Dean Tydell.
It will be a big day at White Hills as David Wright plays his 250th senior match for the Demons.
A fierce competitor in every game he has played, Wright was named at centre half-forward for the clash with the Leitchville-Gunbower Bombers at the Scott Street ground.
The Jack Fallon-coached Demons will be fired up after an eight-goal loss at Heathcote.
The White Hills attack in that contest was led by Bayden Fallon, three, and Liam Bartels, two.
Ryan Walker, Hamish Richards, Ben Bacon and Doolan Nihill were among the Demons' best last week.
The Demons will look to the experienced Brady Childs, Gavin Bowles and Rhys Irwin to win plenty of the footy.
Victory in Wright's 250th should give the Demons plenty of incentive.
Leitchville-Gunbower worked hard to be within six goals of Elmore at the finish of Saturday's match at Leitchville.
Leading goalkickers for the Tim Bannan-coached Bombers in a high-scoring contest were James Barrat, four; Billy Hawken, Nathan McLellan and Ayden Walton, two each.
Jobee Warde and Nathan McLellan are two of the Bombers' best and most consistent players.
Elmore marked its first win of the season against the Bombers and now chases consecutive wins as the Bloods host Huntly this Saturday.
Darcy Laffy kicked eight goals in the Bloods win and looms as major threat to the Hawks.
Key players for the Dylan Friedberger and Dylan Gordon-coached Elmore include Kyle Armstrong, Mitch Carson, Tannar Cerrone and Nic Kellow.
Although winless, Huntly put in a superb effort to be within 11 points of Colbinabbin at three quarter-time.
The Stacy Fiske-coached Hawks will go to Elmore confident of a breakthough victory.
Key players for Huntly include Orion Downing, Luke Gray and Travis Mercadante in attack, Jay McDonald at half-back, Tori Ferguson, Jaydon Cowling, Mitch Christensen and Mitch Billings.
Heathcote has the bye.
Heathcote DFNL senior footy ladder:
Colbinabbin 222 per cent, 28 points; Lockington Bamawm United 200, 24; Mount Pleasant 197, 20; North Bendigo 133, 16; Heathcote 94, 12; White Hills 68, 8; Elmore 67, 4; Leitchville-Gunbower 36, 4; Huntly 53, 0.
Leading goalkickers:
31 Ben Weightman, MP.
22 James Brain, Colbo.
21 Jed Brain, Colbo.
19 Ben Fulford, LBU; Dylan Klemm, NB; Darcy Laffy, Elm.
18 Matt Gray, NB.
16 Jack Brooks, H'cote; Kai Cavallaro, H'cote; Braden Padmore, H'cote.
15 Laine Fitzgerald, Colbo.
14 Adam Baird, MP; Anthony McMahon, LBU.
12 Clint Shields, Colbo.; Rhys Woodland, LBU.
11 Jackson Conforti, H'cote; Jordan Ford, NB; Luke Moore, Colbo.; Tyler Phillips, LBU.
10 Blake Azzopardi, LG; Bayden Fallon, WH; Cohen Kekich, WH.
Written by Nathan Dole.