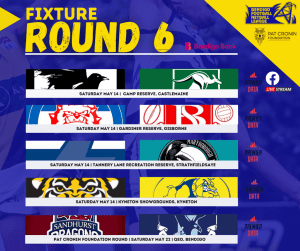 SOUTH Bendigo and Kyneton will be primed for a massive challenge in Saturday's senior footy action in the Bendigo Bank Bendigo Football Netball League.
The Bloods make the trek to Gisborne's Gardiner Reserve to take on the unbeaten Bulldogs, and Kyneton is at home to a Golden Square line-up on the rebound from defeat in the start to the split sixth round.
It's also Community Umpiring Round across all leagues in the AFL Central Victoria region.
Club have also kicked in to support the Pat Cronin Foundation in its quest to raise awareness about the "Coward Punch" and ramifications of all forms of violence.
The league will highlight the foundation's message and also promote presentations and clubs becoming a "Be Wise Club".
Players in Castlemaine's and Kangaroo Flat's teams will wear yellow armbands in all three football matches at Camp Reserve.
On the football field, Gisborne will be wary of a South Bendigo line-up which is on a three-game winning streak.
A highlight of this match will be the midfield duels where Gisborne star Brad Bernacki and South Bendigo ace Cooper Leon have racked up possessions at will.
Both not only set up attacks, but in Leon's case have finished them off as he kicked six goals in the Bloods' win against Castlemaine.
A key to victory for the Nathan Horbury-coached South Bendigo will be its defensive play.
A tight-knit unit led by Daniel Johnstone, Zac Hare, Isaiah Miller and Cameron Taggert will be up against Jack Josh Kemp, Ethan Foreman, Matthew Pannucio and Matt Merrett.
The Rob Waters-coached Bulldogs will be without gun forwards Pat McKenna and Jack Scanlon.
South Bendigo's on-ball division of Will Allen, Liam Byrne, Nathan Horbury and Cooper Leon will work hard at stoppages and centre clearances on the shorter ground.
In attack, Kaiden Antonowicz, Michael Herlihy and Brock Harvey are South's key targets up against Jack Reaper, Jaidyn Owen and Sam Graham.
It's a huge match at Kyneton Showgrounds where the Tiger Army will be out in force to watch its team take on Golden Square.
The Paul Chapman-coached Kyneton has a 2-3 record and a win will keep the heat on Eaglehawk, South Bendigo and Sandhurst in the battle to hold the fourth and fifth rungs on the ladder.
The Tigers won their latest match on Kangaroo Flat's ground by 79 points as Frazer Driscoll, key defender Harrison Huntley and onballer Dean Bartrop led the way.
Cameron Manuel kicked six goals and will be a threat to the Bulldogs' defence, along with the skilful Rhys Magin and Cameron Wallace.
The ability of the Tigers to halt the Bulldogs' creativity and run through midfield will be important.
Kyneton has Hamish Yunghanns, Angus Nolte and James Orr to take on Bulldogs' stars Jack Geary, Jake Thrum and Ryan Hartley.
After being held to tallies of three and one in the match against Sandhurst, Jayden Burke and Joel Brett will be fired up in Golden Square's attack.
Tanner Rayner steps up to the ruck in place of the injured Matt Compston.
Other players to watch for the Bulldogs include Liam Duguid, Liam Barrett and Jon Coe in defence; Terence Reeves and Jack Hickman.
Castlemaine or Kangaroo Flat will move to a 2-4 record after they meet in the Magpies' nest at Camp Reserve.
Both will be keen to hit back from big defeats.
The Don Moran-coached Magpies will not want to allow the Roos to score 12 unanswered goals as South Bendigo did last round.
Key players for Castlemaine include Tommy Horne, Will Moran, Tom Cain and Riley Pedretti.
Jack Chester kicked seven goals in the win at Maryborough and looms as a threat to the Roos.
The return of Liam Wilkinson is a huge plus for Castlemaine, while the talented Bailey Henderson was named at half-forward after not playing for the Pies against the Bloods.
Kangaroo Flat worked hard to be within 14 points of Kyneton at half-time of the round five match, but the Roos added 1.6 in the final hour as the Tigers slammed on 12 goals.
The James Flaherty-coached Roos have the pace and skill of Liam and Mitch Collins, Mitch Trewhella and Mitch Rovers.
Ruckman/forward Nic Lang is one of the Roos' best and most consistent players, while Lachy Wilson, Sam Barnes and Ethan Roberts are targets in attack.
Strathfieldsaye is on the rebound from defeat for the first time since the third round of the 2021 season.
Storm is back on home turf at Triple M Park in Tannery Lane to take on Maryborough.
The Darryl Wilson and Shannon Geary-coached Storm showed plenty of fight to take the lead in the final minutes of their clash with Gisborne, but the Bulldogs fought back to win by a goal.
Strathfieldsaye will be without gun forward Lachlan Sharp, groin injury, but have James Schischka, Baxter Slater, Caleb Ernst and Jake Hall to finish off attacks.
Players to watch for Storm include Kallen Geary, Jye Formosa and Lachlan Gill.
The depth of the Rick Andrews-coached Maryborough has been tested all season.
The Magpies are far from full-strength, but will strive on keeping the heat on for longer.
Aidan Hare has had a great season for Maryborough and was best in last week's clash with Eaglehawk.
The play of Jayden Hooper, Chris Freeman, Dylan Harberger and Patrick Van der Pol will be crucial for the Magpies.
Round six will be completed on May 21 when Sandhurst and Eaglehawk meet in a stand-alone game at Queen Elizabeth Oval.
Bendigo FNL senior footy ladder:
Gisborne 332 per cent, 20 points; Golden Square 270, 16; Strathfieldsaye 154, 16; Eaglehawk 147, 12; South Bendigo 104, 12; Sandhurst 105, 8; Kyneton 103, 8; Kangaroo Flat 59, 4; Castlemaine 34, 4; Maryborough 23, 0.
Leaders in the Ron Best Medal, senior goalkicking award:
25 Joel Brett, GS.
21 Jayden Burke, GS; Rhys Magin, Kyn.; Lachlan Sharp, S'saye.
18 Pat McKenna, Gis.
16 Josh Kemp, Gis.
15 Brock Harvey, SB; Cobi Maxted, Sh.
13 Darcy Richards, Eh; Jack Scanlon, Gis.
12 Kaiden Antonowicz, SB.
11 Ryan Pretty, Kyn.
10  Cameron Manuel, Kyn.; James Schischka, S'saye; Ben Thompson, Eh.
9 Ethan Foreman, Gis.; Tom Strauch, GS.
8 Lewin Davis, Eh; Chris Freeman, Mb; Cooper Leon, SB; Liam Marciano, Eh; Matthew Merrett, Gis.; Lachy Wilson, KF.
7 Jack Chester, Cm; Alexander Smith, SB; Braydon Vaz, GS.
6 Sam Barnes, KF; Brad Bernacki, Gis.; Riley Clarke, S'saye; Sam Dean, Eh; Bailey Henderson, Cm; Shaun Knott, Eh; Matthew Panuccio, Gis.; Mitch Rovers, KF; Matt Thornton, Sh.
Written by Nathan Dole.