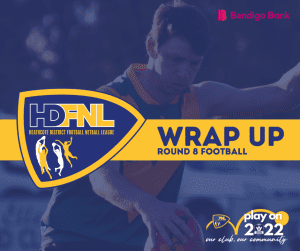 COLBINABBIN broke Lockington Bamawm United's unbeaten run in Saturday's eighth round of the Bendigo Bank Heathcote District Football Netball League's senior footy competition.
The Grasshoppers and LBU had winning streaks on the line as they took to M.J. Morgan Reserve at Colbinabbin.
Unbeatean in 12 matches on its way to being declared premier in 2021, Lockington Bamawm United was a on a six-game winning streak going into the top of the ladder clash.
It was the Julian Bull-coached Grasshoppers who applied relentless pressure all over the ground and capitalised on scoring chances.
Colbinabbin led 46-12 at half-time as the Cats' only goal had been kicked by Baxter Anderson his first senior game.
The Grasshoppers did not ease up the intensity at the contest and a tight-knit defence worked incredibly hard to hold the Cats to just four goals.
The in-form James Brain kicked a match-high five goals as Jed Brain and Stephen Tuohey chipped in with two apiece in the 81-34 victory.
There were no multiple goalkickers for the Brodie Collins-coached Cats.
Best for Colbinabbin were Matt Riordan, Ben Southam, Ben Barton, James Brain, Darcy Brown and David Price.
LBU's best were Baxter Anderson, Tyler Phillips, Riley McIvor, Joss Howlett, Coby Cox and Jarod Bacon.
A point was the difference between North Bendigo and Mount Pleasant in their big match played on the Bulldogs' turf at Hibo Hotel Oval in Atkins Street.
Pressure was high in a match where goalkicking accuracy was astray.
North Bendigo needed the win to draw level with the Blues in the fight for a top-three berth and double chance at finals time.
The Bulldogs went into the match without key playmakers Aarryn Craig and Jordan Ford.
North Bendigo coach Robert Bennett said the key was to not worry about who was not playing, but confidence in the 22 who took to the field.
The Blues led 19-16 at quarter-time.
A major blow for Mounts was co-coach and gun on-baller Adam Baird breaking his left fibula in the first term.
Baird is likely to miss between four and six matches.
North Bendigo led by a point at half-time.
Some late goals in the third quarter put North Bendigo up by 13 points, but it was Mounts which began the final term with plenty of run and took the lead.
Led by the play of Shane Harris in defence, ruckman Jeremy Lambden, Sean Moyle at stoppages, stand-in captain Daniel Reid at full-back, Dylan Klemm in attack and Nic Waterson on a wing, North Bendigo lifted its play.
Late in the contest North Bendigo defender Lachlan Ford broke his ankle.
Scores were 59-all when a running shot by Bulldogs' wingman Nic Waterson went through for a point.
The Blues had another chance, but a snap at goal under extreme pressure sailed out on the full.
Minutes later and the siren sounded with North in front, 8.12 (60) to 8.11 (59).
Athletic forward Dylan Klemm soared for some great marks and finished with four goals on his way to earning the Gus Roulston Medal as the Bulldogs' best.
The medal honours Russell Roulston, a gun forward with North Bendigo in the club's golden era in the Golden City League in the late 70s who also starred for Mount Pleasant in the HDFNL.
Klemm and Matt Gray, two, were the multiple goalkickers for the Bulldogs.
Closer to goal or in midfield, Ben Weightman had a major impact on the contest and finished with six goals for a season tally of 37.
In a great sign for the Darren Walsh and Adam Baird-coached Blues, Sam Greene, Bryce Hinneberg and Travis Baird marked their returns by being among the best with Weightman, ruckman Chris Down and Fletcher White.
White Hills marked David Wright's 250th senior game by scoring a 75-point win against Leitchville-Gunbower I the Demons' den at Scott Street.
Stung by defeat at Heathcote the previous round, the Jack Fallon-led White Hills led 33-6 at quarter-time and by 28 points at the main break.
Liam Bartels went on to kick eight goals in a best afield performance as the Demons won 128 to 53.
Cohen Kekich kicked three goals and Patrick Eefting added two.
Thomas Guerra and Nathan McLellan kicked two goals apiece for the Bombers.
The Demons' best were Bartels, Ryan Walker, Eefting, Nathan Moffat, Bayden Fallon and Kaiden Skelton.
Best for the LG line-up were Oskar Smart, Matthew McLellan, Leyton Shenfield, Tom Brereton, Sam Lewis and James Kervin.
Elmore marked consecutive wins as the Bloods fought for a 19-point win at home against Huntly.
The Dylan Friedberger and Dylan Gordon-coached Elmore won the opening three quarters to lead 72-40 at the last change.
Huntly hit back to win the final quarter, 28-15, but it was Elmore which celebrated an 87-68 victory.
Darcy Laffy kicked four goals for Elmore.
Huntly's attack was led by Mitch Christensen, three, and Luke Gray, two.
Best for Elmore were Zac Laffy, Regan Williams, Kyle Armstrong, Dylan Gordon and Zack Holmberg.
Mitch Christensen, Jayden Cordy, Jay McDonald, George Chamouras, Jake Maher and coach Stacy Fiske played well for the Huntly Hawks.
Heathcote had the bye.
Heathcote DFNL senior footy ladder:
Colbinabbin 223 per cent, 32 points; Lockington Bamawm United 169, 24; Mount Pleasant 183, 20; North Bendigo 130, 20; Heathcote 94, 12; White Hills 80, 12; Elmore 72, 8; Leitchville-Gunbower 36, 4; Huntly 56, 0.
The league hits the halfway mark of the season next Saturday.
Match of the day will be at Toolleen where Mount Pleasant takes on Colbinabbin.
Leitchville-Gunbower faces Heathcote at Leitchville.
Huntly faces White Hills on the Hawks' turf at Strauch Reserve.
Lockington Bamawm United is back at Lockington to play Elmore.
North Bendigo has the bye.
Written by Nathan Dole.