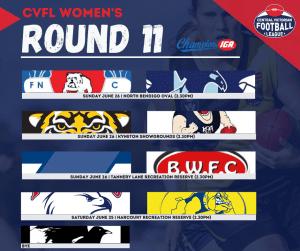 Tigers fight to hold place in top four
KYNETON will fight to hold its place in the top four when it meets Kerang in Sunday's 11th round of the Champions IGA-backed CVFL senior women's football competition.
The Tigers are back on home turf at Kyneton Showgrounds after last Saturday night's 7-96 loss to Castlemaine in the Pride Cup Round match played under lights at Tigerland.
Kyneton's best against the unbeaten ladder leader were Belinda Hateley, Teagan Ainslie, Heidi Erasmus and Madeline Stott.
It's the first meeting of the season between Kyneton and Kerang.
The Stephen Arthur-coached Kerang heads to Tigerland following a loss to Bendigo Thunder at Weeroona Oval.
Best for the Blues were Kendall Ash, Yasmin Harrington, K. Hogan, Jessica Searle, Sarah Ride and Casy Unger.
The Blues' squad includes Kayla and Zalie Ash, Jedda Birch, Amber Dastey and Kate Spiers.
North Bendigo faces Eaglehawk from 2.30pm on Sunday.
After a run of four defeats, Eaglehawk has bounced back to win its past two matches.
Last week the Hawks beat Storm,, as Samantha Heron kicked seven goals and Paige Scott chipped in with five.
Best for the Borough were Samantha Heron, Jasmine Burzacott, Paige Scott and Kristal Lougosi.
The previous round and Eaglehawk beat Kerang by in a strong display.
In the round one matches on April 3, Eaglehawk scored a dominant win against a valiant North Bendigo at Canterbury Park.
Players to watch in the Geoff West-coached Hawks' line-up include Freyja Pearce, Grace Murley, Chloe Green and Kelly Mensforth.
It's been a tough run for the Ricky Crotty-coached North Bendigo.
The Bulldogs were beaten convincingly when up against the powerful Golden Square under the Fur Life Oval lights last Friday night.
North Bendigo's best in that contest were Kira Gibbons, Samantha Bice, Maddie Jelbart, Leonie Schulz, Cassandra Coughlan and Ashlyne McInnes.
It was North's first hit-out after consecutive byes.
Strathfieldsaye's defence will again be tested in Sunday's showdown with Bendigo Thunder from 2.30pm at Triple M Park in Tannery Lane.
Thunder struck the 201-point mark in their latest hit-out with Kerang as Britney Mueck kicked 13 goals and Georgia Gordon added five.
The round one match between Thunder and Strathfieldsaye at Weeroona Oval ended in a strong win for the Jac Louttit-coached Thunder.
Key players for Thunder include captain Phoebe Cuttriss, Shelby Faulkner, Jessica Kennedy and Megan Williamson.
Strathfieldsaye's best in the round 10 clash at Eaglehawk included Melissa Freestone, Jessica Jackson, Jessica Kopp, Molly Pianta and Britt Tangey.
The squad for the Jake Donegan-coached Storm includes Caitlin Shaw, Keisha Tonzing and Lana Westaway.
Champions IGA-backed CVFL senior women's footy ladder:
Castlemaine 881 per cent, 32 points; Golden Square 862, 28; Bendigo Thunder 468, 20; Kyneton 123, 20; Eaglehawk 265, 16; Strathfieldsaye 24, 8; Kerang 4, 4; North Bendigo 0, 1.
Castlemaine and Golden Square have the bye.
The CVFL practice match series resumes on Saturday when Mount Alexander Falcons play Golden Square from 2.30pm at Harcourt Recreation Reserve.
Written by Nathan Dole.