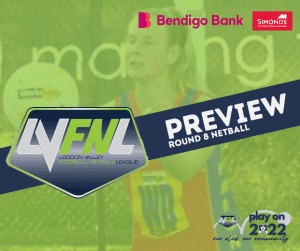 CALIVIL United will turn up the heat as the Demons take on the ladder-leading Marong in this Saturday's eighth round of A-grade netball in the Bendigo Bank Loddon Valley Football Netball League.
It's third against first as the Demons host Marong at Calivil.
In last Saturday's play, Calivil United struck back from its first defeat of the season to score a 48-24 win on Pyramid Hill's court at Mitchell Park.
Key players for the red and blue in that victory were Jasmine Condliffe and Tia Steen.
The Karen Pascoe and Teigan Redwood-coached Demons will be aiming to capitalise on quick movement into attack, but also defend strongly against the in-form Marong.
In its latest hit-out, Marong passed the 70-goal in the win against Bears Lagoon Serpentine in the Panthers' den at Malone Park.
A score of 73 goals was Marong's best this season.
The Panthers' run has included a closely-fought victory on Maiden Gully YCW's court, and a draw with Mitiamo on the Superoos' court at John Forbes Oval.
Key players for the Panthers include Kirsty Hamilton, Brittany Shannon and Bridget Willock.
Another big match will be at Bridgewater where the Mean Machine takes on Maiden Gully YCW.
The fifth-placed Bridgewater scored a hard-fought 44-42 win in last Saturday's clash with Newbridge at Holloway Air Riverside Park in Newbridge.
The task for the Machine does not become any easier up against the second-placed Eagles.
The Christie Griffiths-coached Maiden Gully YCW scored a 67-54 in its latest hit-out with Mitiamo.
Pyramid Hill and Newbridge will clash on the Bulldogs' court at Mitchell Park.
It's a crucial contest for both teams.
Pyramid Hill is chasing its second win of the season, while victory will allow Newbridge to keep the heat on Bridgewater.
It's a rest for Bears Lagoon Serpentine in A-grade as they are drawn to play Inglewood, but the Bears will play the Blues in the lower grades at Gadsden Finance Serpentine Reserve.
Mitiamo has the bye.
Standings in the Loddon Valley FNL A-grade netball competition:
Marong 145 per cent, 26 points; Maiden Gully YCW 145, 20; Calivil United 126, 20; Mitiamo 125, 18; Bridgewater 118, 12; Newbridge 70, 8; Pyramid Hill 54.9, 4; Bears Lagoon Serpentine 54.4, 0.
Written by Nathan Dole.