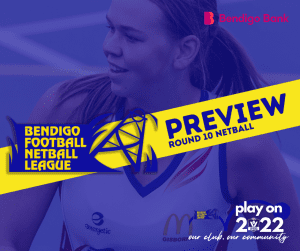 AS THE second half of the A-grade netball season begins this Saturday, Gisborne will try to stop Sandhurst's unbeaten run in the Bendigo Bank Bendigo Football Netball League action.
It's a huge challenge for the Gisborne line-up which holds third place in the league's standings.
Both clubs have had many great battles, particularly on the court at Queen Elizabeth Oval across many years.
In round one of the '22 campaign, Sandhurst dominated play on Gisborne's court at Gardiner Reserve.
The Tamara Gilchrist-coached Sandhurst won 66-33 and has dominated many matches since then.
The Dragons are strong in all thirds of the court.
Not only does the team in maroon and blue have a quality attack and mid-court, but also a tight-knit defence.
Since the round one defeat, Gisborne has achieved a win-loss tally of 6-1.
The only other defeat for the Bulldogs was on Kangaroo Flat's court at Dower Park in the Indigenous Round.
In last Saturday's round nine action, Sandhurst scored a 62-46 win against Castlemaine at the QEO, and Gisborne won 60-30 at Eaglehawk's Canterbury Park.
Another important match will be at Kyneton Showgrounds where the Tigers take on Castlemaine.
In its comeback to A-grade netball, Castlemaine has marked a win-loss tally of 5-4 to be fifth on the ladder.
The Tigers have a 3-5 record and also drew their home game with South Bendigo be in sixth place.
Kyneton fought on to score a 49-46 win at Maryborough's Princes Park last round.
There's plenty at stake for both teams as Kyneton starts the contest six premiership points behind the Magpies.
In round one, Castlemaine scored a 48-27 victory against the Tigers at Camp Reserve.
Eaglehawk and Strathfieldsaye clash at Canterbury Park.
The Hawks are on the rebound from a 30-goal loss and take on a team which won its latest hit-out at Golden Square by 28 goals.
In the season opener, Strathfieldsaye won a great contest with the Hawks, 41-35 at Triple M Park in Tannery Lane.
Maryborough takes on Kangaroo Flat at Princes Park.
Strong defence and making the most of scoring chances will be the key for the Magpies.
In round one the Pies were beaten 66-28 at Kangaroo Flat.
The Roos showed they have plenty of depth in their 74-44 win against South Bendigo last Saturday.
Despite missing four of their regular A-grade players, Kangaroo Flat dominated all quarters.
Golden Square plays South Bendigo at Fur Life Oval in Golden Square's Wade Street.
Both teams are on the rebound from defeat.
In round one, South Bendigo beat Square, 69-23 at the QEO.
The fourth-placed Bloods will be looking to build confidence and also have a chance to climb to the third rung, should Gisborne be beaten by Sandhurst.
Standings in the Bendigo FNL's A-grade netball competition:
Sandhurst 208 per cent, 36; Kangaroo Flat 196, 32; Gisborne 133, 24; South Bendigo 110, 22; Castlemaine 100, 20; Kyneton 79, 14; Strathfieldsaye 73, 12; Maryborough 85, 8; Eaglehawk 63, 8; Golden Square 43, 0.
Written by Nathan Dole.