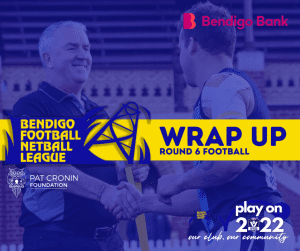 EAGLEHAWK scored a decisive victory against Sandhurst in the Pat Cronin Foundation match on Saturday to complete the split sixth round in the Bendigo Bank Bendigo Football Netball League's senior footy season.
Not only were premiership points up for grabs, but the day was a showcase for the work of the Pat Cronin Foundation, raising awareness about the dangers of the "Coward Punch" and  a fund-raiser to continue its Be Wise program in sporting clubs, schools, and across the community.
On the football field, Eaglehawk won every quarter in a terrific contest between two of the league's biggest rivals.
The Hawks led 28-15 at quarter-time, but the Dragons fired up to win the second 20-14.
The Travis Matheson-coached Eaglehawk turned a seven-point lead going into the second half into a 14-point buffer as they lined up for the last term.
Led by the play of Liam Marciano and Sean Williams, three goals apiece; and Shaun Knott and Darcy Richards, two, it was Eaglehawk which kicked on to win 14.13 (97) to 11.16 (82).
It was a vastly different attack for Sandhurst after its wins against Kangaroo Flat and Golden Square.
The Dragons were without Cobi Maxted, VFL with Collingwood, and Sean O'Farrell, injured.
Not named in the Sandhurst team on Thursday night because of a Play HQ glitch, Lee Coghlan did play and was among the best.
The classy and elusive Joel Wharton kicked a match-high five goals for the Dragons as six team-mates added a goal apiece.
Best for Eaglehawk were skilful on-baller Noah Wheeler, Kobe Lloyd, key defender Oscar Madden, ruck-rover Billy Evans, Zack Bulger and Dillon Williams.
Alex Wharton, Noah Walsh, Lee Coghlan, Joel Wharton, James Coghlan and Hamish Hosking were the Dragons' best.
Bendigo FNL senior footy ladder:
Gisborne 331 per cent, 24 points; Strathfieldsaye 212, 20; Golden Square 220, 16; Eaglehawk 142, 16; Kyneton 104, 12; South Bendigo 85, 12; Sandhurst 101, 8; Kangaroo Flat 68, 8; Castlemaine 36, 4; Maryborough 19, 0.
Leaders in the Ron Best Medal, senior goalkicking race:
27 Joel Brett, GS.
22 Jayden Burke, GS; Rhys Magin, Kyn.
20 Josh Kemp, Gis.; Lachlan Sharp, S'saye.
18 Pat McKenna, Gis.
17 Brock Harvey, SB.
15 Cameron Manuel, Kyn.; Cobi Maxted, Sh; Darcy Richards, Eh.
13 Kaiden Antonowicz, SB; Jack Scanlon, Gis.
12 Matthew Merrett, Gis.
11 Liam Marciano, Eh; Ryan Pretty, Kyn.; James Schischa, S'saye; Ben Thompson, Eh; Braydon Vaz, GS; Lachy Wilson, KF.
10 Kallen Geary, S'saye; Mitch Rovers, KF; Joel Wharton, Sh.
9 Lewin Davis, Eh; Ethan Foreman, Gis.; Tom Strauch, GS.
8 Jack Chester, Cm; Chris Freeman, Mb; Shaun Knott, Eh.
Indigenous Round will be played next Saturday.
Feature match is between Golden Square and Castlemaine at Fur Life Oval in Wade Street.
Match of the day status goes to Eaglehawk and Kyneton as the Hawks and Tigers prepare to meet on the Borough's turf at Canterbury Park.
South Bendigo takes on a red-hot Strathfieldsaye at Queen Elizabeth Oval.
Kangaroo Flat faces the unbeaten and ladder-leading Gisborne on the Roos' ground at Dower Park.
Maryborough tackles Sandhurst on the Magpies' turf at Princes Park.
Written by Nathan Dole.