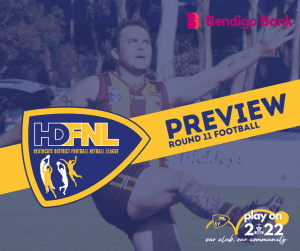 THE Huntly Hawks will eye a great chance to mark their first victory of the Bendigo Bank Heathcote District Football Netball League's senior footy season in Saturday's clash at Leitchville.
Huntly will make the trek north to tackle the Leitchville-Gunbower Bombers in a match crucial for both clubs.
A Bombers' victory would put LG two wins clear of the last-placed Hawks.
Despite a winless run, Huntly is 19 per cent in front of Leitchville-Gunbower.
In the round two match played on April 16, the Tim Bannan-coached Bombers won 84-83 at Huntly's Strauch Reserve.
Blake Azzopardi kicked seven goals as Josh Hawken and Jobee Warde were best.
Leitchville-Gunbower's best in recent weeks include Tom Brereton, Billy Hawken, James Kervin, Matt McLellan and Leyton Shenfield.
The Bombers had the bye last Saturday as Huntly went down 52-58 against Heathcote in the Hawks' nest.
Jake Maher, Harrison Campbell, Tyler Miles and Jay McDonald were Huntly's best last round.
Hawks' playing coach Stacy Fiske will look to Luke Gray, Orion Downing, Brad Chalmers, Jaydon Cowling and Travis Mercadante to win plenty of contests.
White Hills takes on Mount Pleasant at the Demons' den in Scott Street.
The round two match between the clubs ended in a 139-63 victory for the Blues at Toolleen.
In last Saturday's play, White Hills was beaten at Lockington by 85 points as James Davies, Nic Wallace, Patrick Eefting, Doolan Nihill were best for the red and black.
Up against the Blues, White Hills coach Jack Fallon will look for strong defence from the likes of Kaiden Skelton, Ben Bacon and Bayden Fallon, and for Cohen Kekich, Liam Bartels and Mitch Dole to play well in attack.
Experienced trio Gavin Bowles, Brad Childs and David Wright will also play key roles for White Hills.
Mounts scored a 139-86 win at home against Elmore as Ben Weightman, Chris Down and Jesse Tuohey led the way, and Mitchell Bennett kicked six goals.
Players to watch for the Darren Walsh and Adam Baird-coached Blues include ruck-rover Billy Mahony, Bryce Hinneberg, Zane Keighran, William Wallace and Zebb Murrell.
Elmore is on home turf to take on North Bendigo.
The Bulldogs beat the Bloods in the round two match at Hibo Hotel Oval by 10 goals as teenager Cody Riddick kicked three goals in his senior debut.
For this clash, Riddick is in attack that includes Dylan Klemm, Matt Gray, Hakeem Johnson and Lachlan Tardrew.
A goal umpiring error meant last Saturday's match between North Bendigo and Colbinabbin at the Atkins Street ground was declared a 75-all draw by the HDFNL board.
The Robert Bennett-coached North Bendigo is now six points behind the third-placed Mount Pleasant.
In-form players for the Bulldogs include ruckman Jeremy Lambden, Shane Harris in defence, Jordan Ford, Aaryn Craig and Sean Moyle.
North Bendigo also has the experience of Ryan Alford, Tim Deveraux, Storm Giri and Manny Thalasinos.
Elmore's best against Mount Pleasant were Kyle Armstrong, Regan Williams, Zac Laffy and Matthew Nettlefold.
Darcy Laffy kicked eight goals in the Bloods' round five clash at White Hills and will test the Bulldogs defence.
Other  players to watch for the Dylan Friedberger and Dylan Gordon-coached Elmore include Rhys and Zack Holmberg, ruck-rover Tannar Cerrone, Che Taranto across half-back, and Liam Gundry.
Heathcote is back at Barrack Reserve to take on Lockington Bamawm United.
The round two showdown between these clubs ended in a 135-55 win for LBU at Lockington.
Scores are likely to be much closer this time.
Andrew Saladino has a 5-4 record in his first season as coach of the Saints and the team is in fifth place.
Best in a hard-fought win by the Saints at Huntly were Codie Price, Mitchell McLean, William Direen and Jackson Jones.
A high level of pressure in every quarter will be crucial for the Saints.
Players to watch for Heathcote include centreman Braden Padmore, Joe Langford, Will Long and Caleb Luscombe in defence, Connor Hamilton on a wing, Liam Birch and Jordan Cavallaro in attack.
Thomas Leech kicked four goals and was best afield in LBU's latest win against White Hills.
Charlie Hinks, Lachlan Atherton and Tyler Phillips also starred against the Demons.
A classy Cats line-up coached by Brodie Collins includes Nathan and Trent Bacon, Jesse Collins, Harley Cobb, Coby Cox and Riley McIvor.
Colbinabbin has the bye.
Heathcote DFNL senior footy ladder:
Colbinabbin 187 per cent, 34 points; Lockington Bamawm United 200, 32; Mount Pleasant 169, 28; North Bendigo 126, 22; Heathcote 102, 20; White Hills 78, 16; Elmore 65, 8; Leitchville-Gunbower 38, 4; Huntly 57, 0.
Leading goalkickers:
44 Ben Weightman, MP.
35 James Brain, Colbo.
27 Darcy Laffy, Elm.
26 Jed Brain, Colbo.
25 Dylan Klemm, NB.
24 Ben Fulford, LBU.
21 Anthony McMahon, LBU.
20 Matt Gray, NB.
17 Liam Bartels, WH; Jack Brooks, H'cote; Kai Cavallaro, H'cote; Braden Padmore, H'cote; Rhys Woodland, LBU.
15 Laine Fitzgerald, Colbo.
Written by Nathan Dole.