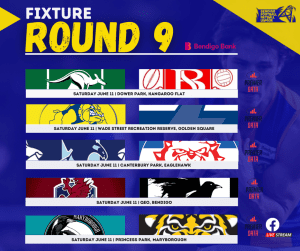 THE ninth round of A-grade netball action in the Bendigo Bank Bendigo Football Netball League this Saturday features huge tests for South Bendigo and Castlemaine.
The Jannelle Hobbs-coached South Bendigo makes the trek to Kangaroo Flat's Dower Park to take on the second-placed Roos.
A great run by the Bloods includes five wins and a draw.
South Bendigo was beaten by top teams Sandhurst and Gisborne and now faces a line-up that has a 7-1 record.
The Jayden Cowling-coached Kangaroos are a daunting prospect on their court.
In last Saturday's play, South Bendigo scored a 59-43 win against Maryborough at Queen Elizabeth Oval.
The Kangaroos dominated play in Strathfieldsaye Storm territory at Triple M Park to win 73-24.
A high level pressure in all thirds of the court will be a key to the Bloods' chances of upsetting the Kangaroos' run.
Another big match on the Queen's Birthday holiday weekend will be at Queen Elizabeth Oval where Sandhurst takes on Castlemaine.
The unbeaten Sandhurst won its latest hit-out at Kyneton by 36 goals.
A major strength of the Tamara Gilchrist-coached Sandhurst team is the defensive third and a powerful attack.
Back in A-grade for the first time in several years, Castlemaine has played well to have a 5-3 record and hold fifth place on the ladder.
The Magpies won a closely-fought contest with Eaglehawk at Camp Reserve last Saturday by 14 goals.
Eaglehawk is back at Canterbury Park to take on Gisborne.
It's a tough assignment for the Hawks who have a 2-6 record and face an opponent which is third on the ladder.
Maryborough will be keen to take the points and jump above Kyneton on the ladder when the Magpies and Tigers clash at Princes Park.
Both teams are on the rebound from defeat.
The Tigers showed in their drawn match with South Bendigo in round four what they are capable of.
Golden Square will target a great opportunity to end its winless run when it plays Strathfieldsaye at Fur Life Oval in Wade Street.
It was a tough afternoon for the Bulldogs and Storm in round eight as they faced the powerful Gisborne and Kangaroo Flat line-ups respectively.
Golden Square was held to 22 goals on Gisborne's court, but in recent weeks the blue and gold has kept the heat on opponents for longer.
The Indigenous Round match between Golden Square and Castlemaine ended in a 44-31 win for the Magpies.
A week earlier and the blue and gold scored 40 goals in a 14-goal loss on Kyneton's court.
Standings in the Bendigo FNL A-grade netball competition:
Sandhurst 222 per cent, 32 points; Kangaroo Flat 201, 28; Gisborne 133, 24; South Bendigo 121, 22; Castlemaine 104, 20; Kyneton 76, 10; Maryborough 84, 8; Strathfieldsaye 65, 8; Eaglehawk 63, 22; Golden Square 43, 0.
Written by Nathan Dole.