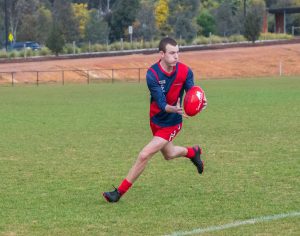 Mitiamo tackles much-improved Maiden Gully YCW
MITIAMO takes on a much-improved Maiden Gully YCW Eagles in Saturday's 16th round of senior footy in the Bendigo Bank Loddon Valley Football Netball League season.
The Superoos have home-ground advantage for this match at John Forbes Oval in Mitiamo.
Bound for another finals campaign, Mitiamo will be determined to build momentum.
The Superoos will also be keen to bounce back after a 20-point lead at three quarter-time of last Saturday's match at Pyramid Hill ended in a five-point loss.
Jay Reynolds kicked five goals and Lucas Matthews added four in the match on Pyramid Hill's turf.
Key players for Mitiamo include rover Lee Dale, Daniel Mowat, Lachlan and Nathan Twigg at full-back and ruck respectively, and Jarryd Wiegard.
When Mitiamo and Maiden Gully YCW met in round seven it was the Marcus McKern-coached Superoos who fought for an 87-76 victory as Ryan Wellington kicked five goals, and Doug Thomas added four.
Ross Turner, Harry McCormick, Jarryd Wiegard, Troy Rogers were the Superoos' best.
The Eagles' best were Jack Gallaher, Nathan Murley, Cooper Hale and Hamish McCartney.
Maiden Gully YCW marked its fourth win of the year when it beat Calivil United by 105 points last round.
Steve Turner celebrated his 300th senior match by kicking six goals in a best afield performance and Jason Butty added five.
Players to watch for the Wayne Mitrovic-coached Eagles include Mitchell Dean, Jessi Lampi, Nathan Murley and Corey Walsh.
It's the clash of the bridges as Bridgewater and Newbridge to battle on Bridgewater's turf.
The Rick Ladson-coached Bridgewater had the bye last round and must win this match to keep the heat on Mitiamo in the fight for the double chance at finals time.
In round seven, Bridgewater won at Newbridge's Holloway Air Riverside Oval by 52 points as Josh Martyn kicked seven goals and Luke Harrison, Jack Symons, Andy Collins and Emile Pavlich were best for the Mean Machine.
In-form players for Bridgewater include ruck-rover Harry Donegan, wingman Callum Prest, Jack Symons, Darcy Wood and key forward Harry McKinley.
Chris Dixon kicked five goals against the Machine in the seventh round and will again be a key target for the Maroons.
Newbridge's best in last Saturday's loss to Bears Lagoon Serpentine were Caleb Argus, Caleb Sanders and Austin Fithall.
Maroons' coach Luke Freeman will look to Harding medallist Harry Whittle, Tyler McLeod, Ryan Burt and Dylan Lloyd to have a major impact on the contest.
It's a tough test for the fifth-placed Bears Lagoon Serpentine against the ladder-leading Marong at Gadsden Finance Serpentine Reserve.
The Bears will be desperate to limit the amount and quality of supply to Marong full-forward Brandyn Grenfell who kicked 18 goals last round and is racing the 150-goal mark.
A powerful Panthers attack includes Kain Robins, Cory Jacobs, Adrian Pappin and Ryley Taylor.
Stars in the Marong team coached by Linton Jacobs include captain Corey Gregg, Nathan Devanny and Jimmy Gadsden.
Andy Gladman kicked four goals for the Bears against the Panthers in round seven and his experience is a huge plus for the team.
Bears' captain-coach Justin Laird has had a superb season, along with Josh Walsh.
Best in the latest win by BLS were Bailey Harrison, Harry Gadsden, Darcy Poulter and Josh Taig.
Calivil United and Pyramid Hill meet in the Demons' den at Calivil.
After being thumped by Maiden Gully YCW last round, Calivil United faces another daunting task.
The Jack Daley-coached Demons go into this match without leading goalkicker Jacob Greenwood.
Greater intensity at the contest and pressure on the opposition will be two focus areas for the red and blue.
The Demons will look to Jack Burns, Phil Ryan, ruckman Corey Pearse, centreman Evan Ritchie, rover Jake Lawry, Alex Daniels and Jordan Lea to lead the way.
Pyramid Hill completed the great escape at home last round to beat Mitiamo after the Bulldogs scored 4.8 to 1.1 in the last to win 79-74.
The Bulldogs' fightback was led by Dylan Collis, Mitch Cheesman and Bryden Morrison.
Mitch Cheesman kicked a team-high four goals.
One of the leading contenders for the premiership, the Nathan Fitzpatrick-coached Pyramid Hill has Bailey George, Braidy Dickens and Seb Relouw in attack; Ed Caburnay and Steve Gunther in midfield; Gavin James and Brad Ladson across half-back; and Ryley Dickens and Billy Micevski in on-ball roles.
Inglewood has the bye.
Loddon Valley FNL senior footy ladder:
Marong 330 per cent, 52 points; Pyramid Hill 230, 48; Mitiamo 117, 36; Bridgewater 113, 32; Bears Lagoon-Serpentine 79, 24; Maiden Gully YCW Eagles 64, 16; Inglewood 54, 12; Newbridge 50, 12; Calivil United 65, 8.
Leading goalkickers:
129 Brandyn Grenfell, Mar.
48 Josh Martyn
41 Bailey George, PH.
36 Jason Butty, MGYCW.
32 Andrew Gladman, BLS.
29 Andy Collins, B'water; Jacob Greenwood, CU.
28 Braidy Dickens, PH; Jay Reynolds, Miti.; Kain Robins, Mar.
27 Chris Dixon, New.
26 Ryley Taylor, Mar.
24 Justin Laird, BLS.
23 Steven Gunther, PH.
22 Ryan Wellington, Miti.
20 Nathan Devanny, Mar.; Charlie McGaw, I'wood.
19 Mitch Cheesman, PH.
18 Lucas Matthews, Miti.; Wayne Mitrovic, MGYCW.
17 Kyle Manley, Mar.
Written By Nathan Dole.