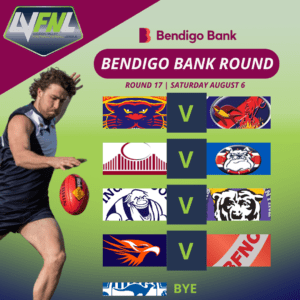 Long-held goalkicking record poised to be broken by Marong star
A LEAGUE goalkicking record set by Bridgewater star Peter Collins four decades ago is likely to fall in this Saturday's 17th round of senior footy in the Bendigo Bank Loddon Valley Football Netball League.
Marong's gun full-forward Brandyn Grenfell will start Bendigo Bank Round needing four goals to pass the mark of 140 set by the brilliant Collins in the 1982 season.
Grenfell and his Marong team-mates will be on home turf at Malone Park to take on Calivil United.
It will be the final hit-out of the home and away series for the Linton Jacobs-coached Marong which is a win and almost 90 per cent clear on top spot from Pyramid Hill.
When Marong and Calivil United met in round eight the Panthers won 139-8 as Grenfell kicked six goals.
The Marong defence played brilliantly to hold the Demons to a goal which was kicked by Jake Lawry in the second quarter.
Key players for the Panthers include Nathan Devanny in the centre; Cory Jacobs, Kain Robins and Ryley Taylor in attack; ruckman Justin Hynes, and ruck-rover Corey Gregg.
The height and athleticism of Richard Tibbett on a wing is a huge plus for the Panthers.
A tight-knit defence includes Corbin Fleming, David Johnstone and Nathan Walsh.
The Jack Daley-coached Demons were hit by illness and injury in the lead-up and during last Saturday's home game against Pyramid Hill.
Calivil United's best in that match were Jack Daley, Jack Burns, Lachlan Brook, Lachlan McAllister, Jake Lawry and Evan Ritchie.
A Demons' defence that includes Alex Daniels, Blair Richards, Caleb Smith and Mitch Deering is likely to be busy once again.
The classy Jacob Greenwood will play a key role for Calivil United in an on-ball role or closer to goal.
Ruckman Corey Pearse and ruck-rover Lachlan McAllister will be up against two of the league's best in Justin Hynes and Corey Gregg.
Newbridge and Pyramid Hill meet on the Maroons' turf at Holloway Air Riverside Oval in Newbridge.
The Maroons marked their best performance of the season as they beat Bridgewater by three points last round.
Chris Dixon's sixth goal of the contest just minutes before the final siren clinched a dramatic victory for the Luke Freeman-coached Newbridge.
The Maroons face another big challenge against a Pyramid Hill team which won the round eight clash by a big margin.
Major challenge for Newbridge will be stop Bailey George who kicked eight goals in the latest clash between the clubs and goes into this contest on a season tally of 49 majors.
Austin Fithall was superb in Newbridge's defence last week and will play a key role, along with tough ruck-rover Caleb Argus, forwards Chris Dixon, Tyler McLeod and Caleb Sanders.
The Maroons' ability to win or apply plenty of pressure at centre ball-ups and stoppages will be vital to stop Pyramid Hill's slick movement into the forward 50m arc where it often rules the one versus one duels.
A powerful Bulldogs' line-up coached by Nathan Fitzpatrick has Braidy Dickens, Scott Mann and Seb Relouw in attack; Steven Gunther in the centre; Ashton Dye, Brad Driscoll and Gavin James in defence.
On-ballers Brad Driscoll, Thomas Brennan and Jake Willcocks set up a lot of play for Pyramid Hill.
Maiden Gully YCW Eagles face Bridgewater at Marist College Bendigo in Maiden Gully.
It's a huge test for an Eagles line-up facing a Bridgewater line-up on the rebound from defeat.
In round eight the Mean Machine beat the Eagles by 64 points as Cameron Ross, four goals; Josh Martyn and Brayden Stepien, three, were on target.
Martyn needs a goal to hit the 50-mark.
Key players for the Rick Ladson-coached Bridgewater include onballer Harry Donegan, the classy Andy Collins, Tyler Estrada, Emile Pavlich, Callum Prest, Lloyd Needs, and Alex Pollock.
Jason Butty kicked six goals for the Eagles against Bridgewater in round eight and will be the major target once again.
Best for the Wayne Mitrovic-coached Eagles in their latest hit-out against Mitiamo were Jessi Lampi, Nathan Murley, Damian Wust, Natnael McLaren, Ed Crisp and Hamish McCartney.
Matt Gilmore and Nathan Murley kicked two goals apiece on Mitiamo's turf at John Forbes Oval.
Inglewood tackles Bears Lagoon Serpentine at Inglewood's Dissy Machinery Oval.
Last time these clubs met it was the Bears who won 131-50 as Andy Gladman and coach Justin Laird kicked five goals apiece.
The BLS line-up will be keen to build confidence after a 70-point loss to Marong.
Players to watch for the Bears include Josh Walsh off half-back, Charlie and Harrison Gadsden, James Bailey, ruckman Darcy Poulter, Bailey Harrison and Brayden Sheahan.
After a bye, Inglewood will be desperate to mark its first victory since round four.
The Darrell Billett-coached Blues were beaten by 81 points in the Bears' den at Gadsden Finance Serpentine Reserve in round eight.
Players to watch for Inglewood include Tom Alexander, Nathan Angelino, Bregon Cotchett and Charlie Ingham.
The play of Cody Stobaus, Taj Rodwell, Luke Matheson, Charlie McGaw and Jaspa Wendels will be crucial for a team which made a flying start to the season and was 3-1 after four rounds.
Mitiamo has the bye.
Loddon Valley FNL senior footy ladder:
Marong 338 per cent, 56 points; Pyramid Hill 248, 52; Mitiamo 125, 40; Bridgewater 112, 32; Bears Lagoon-Serpentine 71, 24; Maiden Gully YCW Eagles 61, 31; Newbridge 53, 16; Inglewood 54, 12; Calivil United 58, 8.
Leading goalkickers:
137 Brandyn Grenfell, Mar.
49 Bailey George, PH; Josh Martyn, B'water.
36 Jason Butty, MGYCW.
33 Braidy Dickens, PH; Chris Dixon, New.; Kain Robins, Mar.
32 Andy Gladman, BLS; Jay Reynolds, Miti.
31 Andy Collins, B'water.
29 Jacob Greenwood, CU.
28 Ryley Taylor, Mar.
27 Steven Gunther, PH.
25 Ryan Wellington, Miti.
24 Justin Laird, BLS.
22 Nathan Devanny, Mar.
21 Mitch Cheesman, PH.
20 Charlie McGaw, I'wood.
Written by Nathan Dole.