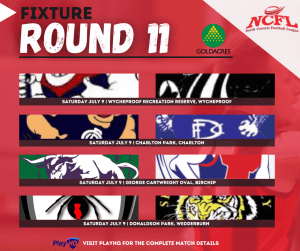 Boort chases back-to-back victories
BOORT will chase back-to-back victories when the Goldacres North Central Football League's senior footy season resumes this Saturday.
The Boort Magpies went into another general bye after a 23-point win on home turf against Charlton in the 10th round.
Now the challenge for the Andy Hawker-coached Boort is to challenge for another victory on Wycheproof Narraport's turf at Wycheproof.
The round four clash between the clubs ended in a 61-35 win for the Demons at Boort Park as Cody Green kicked five goals and key recruits Justin Bateson and Gedd Hommelhoff were best.
Boort's best in the win against Charlton were Levi Moss, rover Matt Chisari, key forward Jesse Muscatello and ruckman Nathan Twigg.
The play of Brodie Leonaord-Shannon, Cody Gunn and Ben Knight will be a key to the Magpies' chances.
The Boe Bish-coached Demons will look for big games from the likes of Spencer Allan, Damien Horbury and Jack McHutchison.
Charlton faces another massive task up against a Donald line-up on the rebound from defeat.
The Andy Nisbet-coached Navies have home-ground advantage at Charlton Park.
In-form players for Charlton include Kade Blow, Aaron Walklate, Bailey Kemp and Cobi Fitzpatrick.
Creating enough chances for an attack that includes Riely Thiesz, Antony Judd, Bailey Kemp and Jackson Zagame to put enough pressure on the Royals will be a key.
A talented Donald line-up has Brody Haddow, Leigh Burke, Ryley Barrack, Ryan Hards, Darcy Harrison, Blake Grant, Daniel Venditti and Will Burke.
On top of the ladder, Birchip Watchem will be in action against St Arnaud at Birchip's George Cartwright Oval.
The Trevor Ryan-coached Bulls dominated the third quarter on their way to a 74-68 win at Donald as Clayton Hinkley, Lochy Sirett, Elliot Jaeschke and Lachlan Ryan led the charge.
Other players to watch for Birchip-Watchem include Will Sheahan, Sam Simmons, Daniel Castellano and Stefan Pye.
The Torin Petrie-coached St Arnaud worked hard in a 100-56 loss to Wedderburn at Lord Nelson Park last round.
Key players for the Saints include Bailey Durward, Matthew Goode, Jake Hicks, Mitch Egan, William Bertalli and Kurtis Torney.
Fourth takes on second as Wedderburn hosts Sea Lake Nandaly Tigers at Donaldson Park.
In round four, Sea Lake Nandaly raced to a 36-1 lead by quarter-time and led 67-12 by the long break.
The Tigers went on to win 96-44 as Billy McInnes kicked six goals and Austin Mertz, Brodie Adcock, Ryan O'Sullivan and Trent Donnan were best.
The Joel Donnan-coached Tigers have a powerful on-ball brigade and powerful attack.
Wedderburn will look for big games from the likes of Jordan Rosengren, Jaran McKay, Jordan Hargreaves and Hamish Winter-Irving.
A Redbacks attack that includes Tom Campbell and Jackson Guan faces a huge task to score enough goals for the Sam Barnes-coached team to topple the Joel Donnan-coached SLN.
Tigers' full-forward Billy McInnes is in great form, along with the likes of Ryan O'Sullivan and Bryce Delmenico.
North Central FL senior footy ladder:
Birchip-Watchem 212 per cent, 36 points; Sea Lake Nandaly Tigers 277, 32; Donald 238, 32; Wedderburn 128, 28; Wycheproof-Narraport 74, 12; Boort 45, 12; St Arnaud 42, 8; Charlton 34, 0.
Leading goalkickers:
43 Billy McInnes, SLN.
29 Daniel Castellano, BW.
28 Will Sheahan, BW.
25 Tom Campbell, W'burn; Blake Grant, D.
21 Jordan Rosengren, W'burn.
20 Will Simpson, SLN.
19 Leigh Burke, D; Cody Green, WN.
18 Justin Ellis, SLN.
16 Danny Benaim, W'burn.
15 Trent Donnan, SLN; Brody Haddow, D.
Written by Nathan Dole.