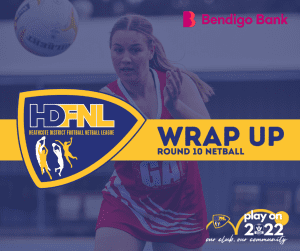 Saints climb to the fifth rung on ladder
HEATHCOTE has moved to the fifth rung on the A-grade netball ladder after round 10 in the Bendigo Bank Heathcote District Football Netball League was played on Saturday.
The Saints played inspired netball on Huntly's court at Strauch Reserve to score a 52-35 victory.
When these teams met in round one it was the Hawks who won by 17 goals at Heathcote.
Saints' coach Brooke Bolton was rapt to have a full-strength team available to take on the Hawks in such a crucial game.
A key to Heathcote's success was the defensive work of Jen Van Neutegem and Jess Peck.
The Saints will now fight to hold fifth place and qualify for the finals.
Colbinabbin responded to North Bendigo's fine start at Hibo Hotel Oval in Atkins Street to score a 58-32 victory.
Back on its home court after a bye the previous round, North Bendigo led 12-10 at quarter-time.
Colbinabbin then lifted its play in all thirds of the court and dominated the final term to win by 26 goals.
Grasshoppers' coach Lisa Myers praised the team on its work to bounce back from consecutive defeats and draw level on points with Mount Pleasant in the duel to claim a top-three finish and double chance at finals time.
The ladder-leading Elmore marked a 10th consecutive victory when it outplayed Mount Pleasant on the Toolleen court.
The Bloods won 71-46.
Arguably the greatest challenger to Elmore for the premiership, White Hills was in top form at Lockington.
The Lauren Bowles-coached Demons won 60-35 as the Cats slipped from fifth to sixth in the league standings.
Leitchville-Gunbower had the bye.
Standings in the Heathcote DFNL's A-grade netball competition:
Elmore 161 per cent, 40 points; White Hills 164, 32; Mount Pleasant 104, 20; Colbinabbin 98, 20; Heathcote 85.6, 12; Lockington Bamawm United 85.3, 12; Huntly 76, 12; Leitchville-Gunbower 85, 8; North Bendigo 63, 8.
Highlight of next Saturday's 11th round will be Heathcote against Lockington Bamawm United at Heathcote's Barrack Reserve.
White Hills is up against Mount Pleasant on the Demons' court at Scott Street.
Elmore is at home to North Bendigo.
Leitchville-Gunbower takes on Huntly at Leitchville.
Colbinabbin has the bye.
Written by Nathan Dole.