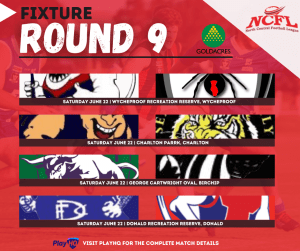 THE league's top four teams will start favourites to claim the premiership points when the Goldacres North Central Football League's senior footy action resumes this Saturday.
Teams are back in action after the Queen's Birthday holiday weekend.
Wycheproof-Narraport will be on home turf at Wycheproof to take on Wedderburn.
A three-point loss at St Arnaud's Lord Nelson Park in the previous round was a huge jolt to the Demons' bid to make the top four and finals.
The Boe Bish-coached Wycheproof-Narraport goes into this match eight points behind the fourth-placed Wedderburn.
When these clubs met in round two on April 9, Wedderburn won on home turf at Donaldson Park by 71 points.
The Sam Barnes-coached Wedderburn won its most recent hit-out against Charlton by 61 points as Jayden Jones, Jaran McKay, Tyson Webster and Hamish Winter-Irving were best.
Players to watch for the Redbacks include ruckman Jordan Hargreaves, Jordan Rosengren at full-forward, Isaac and Luke Holt.
Best for the Demons in a 57-54 loss to the Saints were Damien Horbury, Gedd Hommelhoff, Lachlan Van Schaik and Dylan Turner.
Wycheproof-Narraport will also look for big games from the likes of Sam Faure in the ruck, Rick Allan, Trevor Rumbold, and Dylan and Joel Turner.
Charlton faces another huge challenge against Sea Lake Nandaly Tigers.
The Navies will be on home turf at Charlton Park to tackle a Tigers line-up on the rebound from a big loss to Birchip-Watchem.
Navies' coach Andy Nisbet will look to Bailey Kemp at centre half-forward, key defender Tim Hill, ruckman Cobi Fitzpatrick, Patrick Sait in the centre, and ruck-rover Kade Blow to lead the way in terms of intensity at the contest.
Sea Lake Nandaly won the round two clash with Charlton by 198 points.
The Tigers have slipped to the third rung after a 48-113 loss to the Bulls at Sea Lake.
Players to watch for the Joel Donnan-coached SLN team include Trent and Wade Donnan, Austin Mertz, Luke Martin and Will Simpson.
Gun forward Billy McInnes is back for this match.
Birchip-Watchem Bulls return to George Cartwright Oval in Birchip to take on Boort.
Confidence in the Trevor Ryan-coached Bulls' squad has soared after beating Sea Lake Nandaly Tigers for the second time this season.
The Bulls led 45-26 at half-time and then slammed on 7.5 to 1.2 in the third to put the result beyond doubt.
Best for Birchip Watchem were ruckman Lochy Sirett, Lachlan Ryan, Stefan Pye and James Lindeback.
A talented line-up includes centreman Clayton Hinkley, Sam Simmons, Will Sheahan at full-forward, and Lachy Foott.
Boort was outplayed by Donald to the tune of 98 points at Boort in round eight.
Best for the Andy Hawker-coached Magpies were Nathan Twigg, Matt Chisari, Levi Moss and Tom Potter.
The Magpies' defence could be in for a busy time.
In round two, Birchip-Watchem won 115-39 at Boort.
The ladder-leading Donald is on home turf to play St Arnaud.
Previous showdown between the Royals and Saints ended in a 107-19 win for Donald at Lord Nelson Park.
The Saints showed plenty of fight in a 57-54 victory in the eighth round clash at home against Wycheproof-Narraport.
Matthew Goode, Mitch Egan, William Bertalli and Kurtis Torney were best for the Torin Petrie-coached Saints.
Donald dominated its latest hit-out at Boort where Ross Young, Brody Haddow, Darcy Harrison and James Wall were the stars.
A strong squad coached by Rohan Brown includes Rian McGough, Leigh and Will Burke, Ryley Barrack and Seamus Young.
North Central FL senior footy ladder:
Donald 247 per cent, 28 points; Birchip-Watchem 208, 28; Sea Lake Nandaly Tigers 276, 24; Wedderburn 12,6 20; Wycheproof-Narraport 77, 12; St Arnaud 45, 8; Boort 43, 8; Charlton 32, 0.
Leading goalkickers:
39 Billy McInnes, SLN.
25 Will Sheahan, BW.
23 Daniel Castellano, BW.
19 Tom Campbell, W'burn.
18 Blake Grant, D.
16 Danny Benaim, W'burn.
15 Leigh Burke, D; Jordan Rosengren, W'burn.
14 Cody Green, WN; Will Simpson, SLN.
13 Justin Ellis, SLN.
12 Brody Haddow, D.
Written by Nathan Dole.
Photo credit – 1 mile 2 go photography