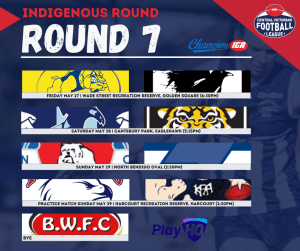 THE unbeaten Castlemaine and Golden Square kick off Indigenous Round when they meet in Friday night's start to the seventh round of the Champions IGA-backed CVFL senior women's footy season.
It's first against third as Castlemaine faces a huge test on Golden Square's turf at Fur Life Oval in Wade Street from 6.30pm.
A brilliant first season by Castlemaine in the CVFL began with a 63-point victory against Kyneton at Camp Reserve and was followed by a 167-point win at Kerang, and 144-point triumphs against Strathfieldsaye and North Bendigo.
This Friday night's clash with the league's best of the 2019 and '21 seasons will be the Magpies' greatest challenge so far.
Both clubs were well represented in the CVFL team which scored a 149-nil win against Northern Country in last Sunday's inter-league challenge at Queen Elizabeth Oval in Bendigo.
Magpies' stars in the team were Ella Cochrane, Emily Cooper, Meg Ginnivan and Shelby Knoll.
The Tiahna Cochrane-coached Castlemaine has plenty of goalscoring power.
A gun recruit for the Pies is Shelby Knoll who has kicked 26 goals.
Knoll previously starred in Kangaroo Flat's attack, but the Roos decided they would not field a team just days before the 2022 season began.
Key players for the Magpies include Tia Davidge, Jemma Finning and Lily McNair.
The run for the Todd Deary-coached Golden Square began with a 174-point win at North Bendigo in round two, and a 31-9 victory in the wet at Eaglehawk.
Golden Square then ended Bendigo Thunder's unbeaten run in a 29-12 result under the Fur Life Oval lights as Sarah Ingram, Andrea Wilson and Bree Heiden were best.
The CVFL team which took on Northern included Golden Square stars Charlotte Beavan, Amanda Carrod, Jessica Cox, Keely Hare, Bree Heiden, Carly Ladson, Liz Watkins and Andrea Wilson.
Golden Square's latest hit-out in the CVFL was at Kyneton where it won 63-14 in a match where Cox, Watkins, Arkie Donnelly and Bree Heiden were best.
Another night game will be played on Saturday when Eaglehawk takes on Kyneton at Canterbury Park from 5.15pm at the Simpsons Road ground.
The Hawks and Tigers are on the rebound from defeat and meet in a crucial contest between fifth and fourth.
Eaglehawk will be keen to strike back after a 15-57 loss to Bendigo Thunder at Weeroona Oval.
The Hawks' best in that match were Kelly Mensforth, Courtney Coffey and Kristal Lugosi.
Lily den Houting and Freyja Pearce were the Hawks' representatives in the inter-league match.
Their team-mates that day were Kyneton's Heidi Erasmus, Belinda Hateley, Taylah Moore and Ursula Van Dyk.
Control of the centre clearances and stoppages will be a key to the chances of the Geoff West-coached Eaglehawk and Phil Hawkes-coached Kyneton in Saturday's match.
A talented Hawks' line-up includes Jasmine Burzacott, Grace Edlin, Chloe Green, Grace Murley and Kirstin Shaw.
The Tigers' best in the match against Golden Square were Rachael Williams, Belinda Hateley, Heidi Erasmus and  Teagan Ainslie.
Other players to watch in the yellow and black include Shannon Prendergast, Elizabeth Whittem and Emma Williams.
Indigenous Round will be completed on Sunday when North Bendigo plays Strathfieldsaye at Hibo Hotel Oval in North Bendigo's Atkins Street from 2.30pm.
It's been a tough season for North Bendigo which was down 2-30 against Kerang when the match at Riverside Park was abandoned early in the third quarter after a North Bendigo player was hurt.
Time lost as the player was being treated exceeded the league protocol so Kerang was declared the winner.
Best for North Bendigo in that match was Tegan Stuchbery.
Key players for the Ricky Crotty-coached North Bendigo include Maddie Jelbart, Kayla-Brea McIntosh, Cassandra Coughlan and Quetta Holloway-Jinks.
Strathfieldsaye had the bye last round after an 85-2 win at Kerang's Riverside Park.
A great season by Storm's Britt Tangey was rewarded with selection in the CVFL team.
Best for the Jake Donegan-coached Storm in its first win of the season included Lucy Gorrie, Jessica Kopp, Molly Pianta and Lahni Stephenson.
Women's football on Sunday will also see a practice match between Mount Alexander Falcons and Kerang, at Harcourt Recreation Reserve (2:30pm).  Although a practice match, the competitiveness will be high as both sides have plenty to play for. Kerang will be looking for a back to back win, while Mount Alexander are full enthusiasm and excitement, and looking forward to testing themselves against another CVFL Women's side.
Bendigo Thunder and Kerang have the bye.
Champions IGA-backed CVFL senior women's footy ladder:
Castlemaine 2427 per cent, 16 points; Bendigo Thunder 1008, 16; Golden Square 827, 16; Kyneton 193, 12; Eaglehawk 297, 8; Strathfieldsaye 18, 4; Kerang 8, 4; North Bendigo 1, 0.
Leaders in the goalkicking race:
27 Britney Mueck, BT.
26 Shelby Knoll, Cm.
12 Meg Ginnivan, Cm.
9 Shannon Prendergast, Kyn.
8 Emily Collins, GS; Freyja Pearce, Eh.
7 Georgia Gordon, BT; Samantha Heron, Eh; Lily McNair, Cm; Taylah Moore, Kyn.
6 Ella Cochrane, Cm; Tia Davidge, Cm; Lily Den Houting, Eh.
5 Sharni Barker, BT; Jasmine Burzacott, Eh; Jemma Finning, Cm; Michelle McCready, GS; Mia Ward, GS.
4 Sharni Barker, BT; Emily Cooper, Cm; Phoebe Cuttriss, BT; Heidi Erasmus, Kyn.; Jessica Kennedy, BT; Shae-Lee Murphy-Burke, BT; Britt Tangey, S'saye; Mia Ward, GS;  Emma Williams, Kyn.
3 Teagan Ainslie, Kyn.; Amanda Carrod, GS; Charlotte Edlin, Eh; Gemma Free, GS; Keely Hare, GS; Natalie Korfinsky, Kyn.; Jac Louttit, BT; Kristal Lugosi, Eh; Shannon Prendergast, Kyn.; Lana Westaway, S'saye; Monique Williams, GS.
Second round in the practice match series on Sunday features Mount Alexander Falcons against Kerang from 2.30pm at Harcourt Recreation Reserve.
Written by Nathan Dole.