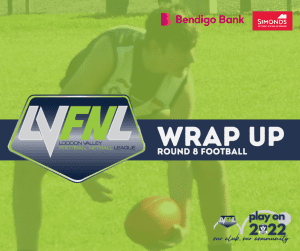 AN EIGHT-GOAL blitz in the final term capped a great win by Bears Lagoon Serpentine against Inglewood in Saturday's eighth round of senior footy in the Bendigo Bank Loddon Valley Football Netball League season.
It was a crucial match for both clubs as the Justin Laird-coached Bears aimed to equal the Blues' win-loss record of 3-4 in the battle to claim fifth place and a finals berth.
A high-scoring opening term at Gadsden Finance Serpentine Reserve was won by the Bears, 38-22.
By half-time the BLS held a five-goal lead after it scored 3.4 to 1.2 in the second term.
Led by the dash of Josh Walsh off half-back, the skill of Charlie Gadsden and James Bailey, Bears Lagoon Serpentine answered all challenges to lead by 32 points going into the final term.
The Bears then unleashed their best quarter of the season as they scored 8.2 to just two behinds.
Andy Gladman and Justin Laird led Serp's attack on five goals apiece as Rhonen Maher added three in a 20.11 (131) to 7.8 (50) result.
Leading goalkicker for the Darrell Billett-coached Blues was Bregon Cotchett on two.
The Bears' best included Gladman, Laird and Harrison Gadsden.
Inglewood's best were Cotchett, Tom Alexander, Charlie Ingham, Nathan Angelino, Cody Stobaus and Luke Matheson.
In front by just eight points at half-time, Bridgewater dominated the second half of its clash on home turf with Maiden Gully YCW.
The Wayne Mitrovic-coached Eagles worked extremely hard to cut a 19-point deficit at the start of the second term to a margin of eight at the long break.
Bridgewater upped its play at centre clearances and stoppages to score 4.1 to 1.1 in the third term.
Cameron Ross kicked a team-high four goals as Josh Martyn and Brayden Stepien added three apiece in a 111-47 victory for the Rick Ladson-coached Newbridge.
The Eagles' attack was led by Jason Butty on six goals.
Bridgewater's best were Emile Pavlich, Harry Donegan, Jacob Ellings, Alex Pollock, Michael Brooks and Luke Harrison.
Best for the Eagles were Jason Butty, Hamish McCartney, Jonathon Carroll, Corey Walsh, Lachie Sobina and Cooper Hale.
It was another ruthless performance by Marong which scored 20 goals and showed plenty of defensive strength to hold Calivil United to a tally of 1.2 at Calivil.
The Panthers led 25-nil at quarter-time and scored 5.3 to a goal in the second term.
The Jake Lawry goal was to be the Demons' only major of the match.
Marong did not concede another score in the second half as it slammed on 12.9 to complete a 139-8 victory.
Key forward Brandyn Grenfell kicked six goals for the Panthers as Kyle Manley and Ryley Taylor, three; Jacob Ede and Richard Tibbett, two, also did well.
Best for the Linton Jacobs-coached Marong were Nathan Devanny, Ryley Taylor, Kyle Manley, Jacob Ede, Adam Ward and Cory Jacobs.
Currently (as this was published), there are no best players listed for the Jack Daley-coached Calivil United.
Pyramid Hill passed the 200-point mark in its clash with Newbridge on the Bulldogs' ground at Mitchell Park.
Bailey George booted eight goals as Braidy Dickens, five; Mitchell Cheesman, four; Steven Gunther, Billy Micevski and Sebastian Relouw, three, were on target in the 33.15 (213) to 5.2 (32) result.
Ryan Burt was Newbridge's multiple goalkicker on two.
Best for the Bulldogs were Steven Gunther, Billy Micevski, Ryley Dickens, Bailey George, Sebastian Relouw and Brad Ladson.
Brandon Etherington, Ben Burns, Ryan Burt, Logan Dixon, Harry Whittle and Chris Dixon worked hard for the Luke Freeman-coached Newbridge.
Loddon Valley FNL senior footy ladder:
Pyramid Hill 286 per cent, 28 points; Marong 279, 28; Mitiamo 127, 20; Bridgewater 121, 16; Inglewood 76, 12; Bears Lagoon Serpentine 76, 12; Calivil United 59, 4; Maiden Gully YCW 47,4; Newbridge 42, 4.
The league hits the halfway mark of the season next Saturday.
Match of the day will be at John Forbes Oval in Mitiamo where the Superoos take on Bridgewater.
Inglewood faces a huge test against Pyramid Hill on the Blues' turf at Dissy Machinery Oval.
Newbridge takes on Calivil United on the Maroons' ground at Holloway Air Riverside Oval.
Maiden Gully YCW plays Bears Lagoon Serpentine at Marist College Bendigo.
Marong has the bye.
Written by Nathan Dole.