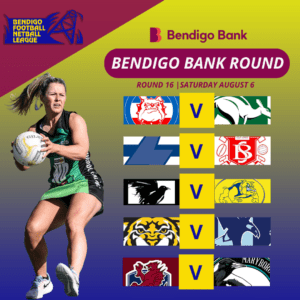 Kangaroos brace for test on Gisborne's court
BEATEN just once this season, Kangaroo Flat faces another big test in Saturday's 16th round of A-grade netball in the Bendigo Bank Bendigo Football Netball League.
The ladder-leading Kangaroos make the trek down the Calder Highway to play the third-placed Gisborne at Gardiner Reserve.
Both clubs will be desperate to pocket the premiership points on a day where AFL Central Victoria marks Bendigo Bank Round for all footy and netball competitions across the region.
When the Roos and Bulldogs met in round seven it was Kangaroo Flat which won the Indigenous Round match played at Dower Park by 12 goals.
The Jayden Cowling-coached Roos took control in the second as Lou Dupuy and Abbey Ryan teamed in up in defencde and Milly Wicks was in superb touch at wing defence.
Kirby Elliott was Gisborne's best.
In last Saturday's play, Kangaroo Flat marked another home-court victory in a 57-38 result against Castlemaine.
Ingrid Hopkins and Carly Van Den Heuvel were outstanding in defence as Ashley Ryan and Chelsea Sartori starred in mid-court.
Gisborne was stung by a one-goal loss to South Bendigo at Queen Elizabeth Oval.
The team in red, white and blue will be desperate to bounce back and build confidence in the lead-up to another finals campaign.
Kyneton will aim to mark consecutive victories when it plays Eaglehawk at Kyneton Showgrounds.
The Tigers won last Saturday's match at Golden Square and will be confident of a home-court win against the Hawks.
In round seven it was Eaglehawk which scored a 44-43 victory against the Tigers at Canterbury Park.
The Hawks were outplayed by the powerful Sandhurst last Saturday, but will eye a strong chance to mark their fifth win of the season.
After a great effort to beat Gisborne last round, South Bendigo will aim to keep the winning run rolling when it plays on Strathfieldsaye's court at Triple M Park in Tannery Lane.
Key players for the Jannelle Hobbs-coached South Bendigo include Olivia Mason at goal attack and Ella Flavell at wing attack.
The Bloods beat the Storm by 24 goals in round seven as Steph Goode, Chloe Gray and Chloe Langley led the way.
Castlemaine hosts Golden Square at Camp Reserve.
The Fiona Fowler-coached Castlemaine put in a great effort against the formidable Kangaroo Flat last round.
The Magpies beat Square by 13 goals in round seven and will be aiming for a strong showing just over three weeks out from an elimination final on August 28.
Sandhurst takes on Maryborough at Queen Elizabeth Oval.
The Tamara Gilchrist-coached Sandhurst will regain top spot by beating the Magpies, and Gisborne beats Kangaroo Flat.
Bec Smith and Ruby Turner starred when the maroon and blue won at Maryborough's Princes Park in round seven.
Maryborough played great netball to claim a 23-goal win at home against Eaglehawk last Saturday, but holding the Dragons' slick mid-court and attack across four quarters will be a massive challenge.
Standings in the Bendigo FNL A-grade netball competition:
Kangaroo Flat 204 per cent, 56 points; Sandhurst 186, 56; Gisborne 140, 44; South Bendigo 111, 38; Castlemaine 109, 36; Kyneton 81, 22; Maryborough 83, 20; Eaglehawk 69, 16; Strathfieldsaye 65, 12; Golden Square 45, 0.
Written by Nathan Dole.