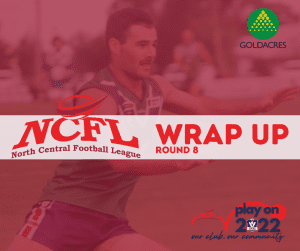 BIRCHIP Watchem Bulls charged to a 10-goal victory on Sea Lake Nandaly Tigers' turf at Sea Lake in Saturday's eighth round of the Goldacres North Central Football League's senior footy season.
The Bulls led 21-12 at quarter-time and then scored four goals to 2.2 in the second.
The Trevor Ryan-coached Birchip Watchem then unleashed a goalscoring frenzy in the third as it added 7.5 to 1.2.
At the final siren the Bulls led 113 to 48.
Daniel Castellano, Will Sheahan and Lochy Sirett led the attack on three goals apiece.
The Tigers were without brilliant full-forward Billy McInnes, so it was Trent Donnan who led the goalkicking on two.
Best for the Bulls were Lochy Sirett, Lachlan Ryan, Stefan Pye, James Lindeback, Dale Hinkley and Elliot Jaeschke.
Luke Martin, Will Simpson, Trent Donnan, Austin Mertz, Ryan O'Sullivan and Charlie Cox worked hard for the Joel Donnan-coached Tigers.
Donald unleashed a brilliant opening quarter at Boort Park.
The Royals led 59-2 at the first break.
The Andy Hawker-coached Boort lifted its defensive play as Donald added 2.3 to a goal in the second.
Led by the play of Ross Young, Brody Haddow and Darcy Harrison, the Royals dominated most of the final hour to claim a 137 to 38 victory.
Leigh Burke and Blake Grant led the attack on five and three goals.
Leading goalkickers for the Magpies were Matt Chisari and Jesse Muscatello on two.
Best for the Rohan Brown-coached Donald included James Wall, Jordan Bates-Gilby and Cody Brooks.
Boort's best were Nathan Twigg, Matthew Chisari, Levi Moss, Tom Potter, Jesse Muscatello and Pat Bogers.
St Arnaud fought from a 13-point deficit at half-time to score a three-point win against Wycheproof-Narraport on the Saints' turf at Lord Nelson Park.
The Saints led 14-13 at quarter-time, but the Demons fired up to win the second, 22-8.
St Arnaud was within three points at a quarter to go after it scored 2.1 to 1.1 in the third term.
Saints' coach Torin Petrie went on to kick a team-high three goals in a hard-fought 57-54 victory.
The Demons' multiple goalkickers were Samuel Faure and Cody Green on two.
Best for the Saints were Matthew Goode, Mitch Egan, William Bertalli, Kurtis Torney, Mitch Birthisel and Jake Male.
Damien Horbury, Gedd Hommelhoff, Lachlan Van Schaik, Dylan Turner, Joe Kenny and coach Boe Bish were best for the Demons.
Wedderburn kept Charlton to single figure tallies in all quarters on the way to a 90-30 result in the Redbacks' web at Donaldson Park.
Jaran McKay led Wedderburn's attack on three goals as Danny Benaim and Isaac Holt added two.
Best for the Sam Barnes-coached Redbacks were Jayden Jones, Jaran McKay, Tyson Webster, Hamish Winter-Irving, Corey Lowry and Darcy Jackson.
Bailey Kemp, Cobi Fitzpatrick, Tim Hill, Patrick Sait, Jed Thompson and Aaron Walklate played well for the Andy Nisbet-coached Navies.
North Central FL senior footy ladder:
Donald 247 per cent, 28 points; Birchip Watchem 208, 28; Sea Lake Nandaly Tigers 276, 24; Wedderburn 126, 20; Wycheproof-Narraport 77, 12; St Arnaud 45, 8; Boort 43, 8; Charlton 32, 0.
Leading goalkickers:
39 Billy McInnes, SLN.
25 William Sheahan, BW.
23 Daniel Castellano, BW.
19 Tom Campbell, W'burn.
18 Blake Grant, D.
16 Danny Benaim, W'burn.
15 Leigh Burke, D; Jordan Rosengren, W'burn.
14 Cody Green, WN; Will Simpson, SLN.
13 Justin Ellis, SLN.
12 Brody Haddow, D.
11 Gedd Hommelhoff, WN; Jaran McKay, W'burn; Josh Potter, D.
10 Dylan Adkins, BW; Will Burke, D; Trent Donnan, SLN; Josh Hicks, SA; Elliot Jaeschke, BW; Riely Thiesz, C.
There will be no play across the North Central FL on the Queen's Birthday holiday weekend.
The season resumes on June 18.
Wycheproof-Narraport plays Weddeburn at Wycheproof.
Charlton faces Sea Lake Nandaly Tigers at Charlton Park.
Birchip Watchem tackles Boort at George Cartwright Oval in Birchip.
Donald hosts St Arnaud.
Written by Nathan Dole.