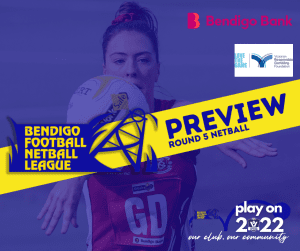 SOUTH Bendigo will up the pressure when it plays Castlemaine in Saturday's fifth round of A-grade netball in the Bendigo Bank Bendigo Football Netball League season.
The Bloods and Magpies will compete on the court adjacent to Queen Elizabeth Oval.
Fifth on the ladder after last Saturday's drawn game at Kyneton Showgrounds, South Bendigo will be desperate to gain the maximum four points against the Magpies.
It will not be an easy task for the Bloods.
After starting the season with wins against Golden Square and Eaglehawk, South Bendigo was outplayed by Sandhurst in round three and then drew 52-all at Tigerland.
Castlemaine has marked a long-awaited return to A-grade netball with a win-loss record of 3-1.
The Magpies' winning run was halted at Gisborne in round three, but the team hit back to score a hard-fought 50-46 win at home against Strathfieldsaye in round four.
Pressure in all thirds of the court will be the key for both teams in a contest which may be decided by a few goals or less.
Kyneton's confidence and form has lifted dramatically in the past fortnight, but the Tigers now face one of the competition's toughest assignments.
Not only do the Tigers make their way to Kangaroo Flat's Dower Park, but face the Roos on the rebound from a one-goal loss to Sandhurst.
The Jayden Cowling-coached Roos had dominated in the opening three rounds, not just in attack but also defence where it held opponents to scores of 28, 19 and 22 goals.
Kangaroo Flat has plenty of experience and skill in all thirds of the court.
The Tigers followed up their 40-30 win at Strathfieldsaye in round three by tying with the highly-rated Bloods last Saturday.
The yellow and black will be striving to be competitive in every quarter on the Roos' court.
Strathfieldsaye takes on Gisborne at Triple M Park in Tannery Lane.
After a first-up victory at home in round one, Storm has taken on Sandhurst (away), Kyneton (home) and Castlemaine (away).
The Storm line-up worked incredibly hard to be within four goals of Castlemaine at the final whistle last round.
Gisborne has struck back from a big loss at home to Sandhurst in round one to beat Kyneton, Castlemaine and Maryborough.
The team in red, white and blue has a strong mid-court and plenty of attacking options.
Golden Square faces Sandhurst at Fur Life Oval in Wade Street.
The Bulldogs have home-court advantage against a formidable opponent.
A run at four consecutive premierships was halted in 2020 and cut short in '21, but the Tamara Gilchrist-coached Sandhurst has shown it will be tough to beat for the cup.
The Dragons have surpassed the 50-goal mark in all four wins, including an impressive tally of 66 at Gisborne in the first round.
Sandhurst will be aiming to climb above that target this round.
It's the clash of two birds the Magpies and Hawks from Maryborough and Eaglehawk take to Maryborough's Princes Park court.
The Alicia Cassidy-coached Maryborough has a 1-3 record and showed it's no pushover in games against Castlemaine, 46-50, and Gisborne, 36-54.
It's been a tough run for Eaglehawk which was beaten by six goals at Strathfieldsaye in round one and then took on South Bendigo (home) and Kangaroo Flat (away).
After a hat-trick of defeats, the Hawks marked a 60-33 win in last Saturday's home game against Golden Square at Canterbury Park.
Win at Maryborough and the Hawks could climb two rungs on the ladder if Storm is beaten by Gisborne.
Standings in the Bendigo FNL A-grade netball competition:
Sandhurst 175 per cent, 16 points; Kangaroo Flat 235, 12; Gisborne 116, 12; Castlemaine 111, 12; South Bendigo 122, 10; Kyneton 76, 6; Maryborough 76, 4; Strathfieldsaye 74, 4; Eaglehawk 72, 4; Golden Square 39, 0.
Written by Nathan Dole.