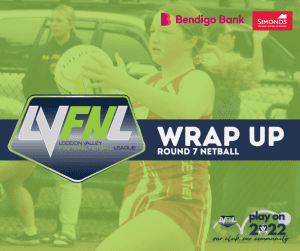 BRIDGEWATER fought to score a crucial win on Newbridge's court in Saturday's seventh round of A-grade netball in the Bendigo Bank Loddon Valley Football Netball League.
The Mean Machine rattled on four unanswered goals late in the contest at Holloway Air Riverside Park in Newbridge to claim a 44-42 victory.
The Aimie Brown-coached Bridgewater went into the match without gun recruit Carly Ladson as she rested up to represent the Champions IGA-backed CVFL senior women's footy team in Sunday's inter-league match against Northern Country in Bendigo.
Brown said it was a terrific contest in which Danielle Flood and Piper Normoyle  played their first A-grade matches, and Daisy Stringer played a key role in the second half fightback.
Maiden Gully YCW Eagles kept the winning run rolling in a 13-goal victory against Mitiamo at Marist College.
The Eagles soared to a 67-54 victory in a highly-skilled contest on the Maiden Gully court.
Key players for the Eagles included Tia Webb, 51 goals; Leisa Barry in the centre, and Meg Patterson in attack.
The Christie Griffiths-coached Maiden Gully YCW strengthened its position at second on the league ladder.
It was a tough afternoon for the Laura Hicks-coached Mitiamo which battled illness in the lead-up and then injuries.
Best of the Superoos was Amelia Ludeman in mid-court.
The unbeaten run Marong scored a 73-36 win against Bears Lagoon Serpentine in the Panthers' den at Malone Park.
Calivil United bounced back from its first defeat of the season to score a 48-24 win at Pyramid Hill's Mitchell Park.
Best for the Demons were Jasmine Condliffe and goaler Tia Steen.
Standings in the Loddon Valley FNL's A-grade netball competition:
Marong 145 per cent, 26 points; Maiden Gully YCW 145, 20; Calivil United 126, 20; Mitiamo 125, 18; Bridgewater 115, 16; Newbridge 75, 8; Pyramid Hill 54.9, 4; Bears Lagoon Serpentine 54.4, 0.
Highlight of next Saturday's eighth round will be the Calivil United and Marong clash at Calivil Recreation Reserve.
Pyramid Hill takes on Newbridge at Mitchell Park.
Bridgewater faces Maiden Gully YCW at Bridgewater Recreation Reserve.
Bears Lagoon Serpentine has a rest in A-grade, but will play Inglewood in the lower grades at Gadsden Finance Serpentine Reserve.
Mitiamo has the bye.
Written by Nathan Dole.