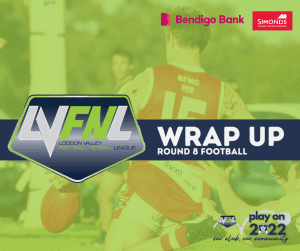 BRIDGEWATER was too strong for an inaccurate Mitiamo in Saturday's match of the day in round nine of the Bendigo Bank Loddon Valley Football Netball League's senior footy action.
There was plenty at stake as third and fourth met on Mitiamo's turf at John Forbes Oval.
Fourth going into the contest, Bridgewater won the first quarter, 4.3 to 1.7.
The Marcus McKern-coached Mitiamo hit back to win the next term, 23-20.
Led by the play of Andy Collins, Lachlan Allison and Brayden Stepien it was Bridgewater which capitalised on scoring chances as it added 4.3 to 1.5 in the crucial third term.
The Rick Ladson-coached Mean Machine eventually motored to a 102-79 victory and jumped to the third rung on the ladder.
Full-forward Josh Martyn kicked six goals for Bridgewater as Tyler Estrada and Lloyd Needs added two each.
Mitiamo's attack was led by Jay Reynolds, four; and Carl Nicholson, three.
Best for Bridgewater included Harry Donegan, Josh Martyn and Emile Pavlich.
The Superoos' best were Carl Nicholson, Ross Turner, Daniel Mowat, Nathan Twigg, Troy Rogers and Jarryd Wiegard.
Bears Lagoon Serpentine withstood a second-half fightback by Maiden Gully YCW to win by a goal in the Eagles' nest at Marist College Bendigo.
The Justin Laird-coached Bears led 42-15 at half-time.
It was all Maiden Gully  YCW in the third term as it scored 3.4 to 0.3 to be within eight points going into the final quarter.
The BLS line-up needed the win to take fifth place on the ladder and lifted to score 2.1 to 2.3 to clinch a dramatic 58-52 victory.
Andy Gladman kicked three goals for the Beaers as Justin Laird added two.
The Wayne Mitrovic-coached Eagles had seven goalkickers.
Best for the Bears were Charlie and Harrison Gadsden, Justin Laird, Kalem Paxton, Josh Walsh and Zach Stone.
Corey Walsh, Nathan Murley, Steve Turner, Hamish McCartney, Jack Gallaher and Clinton Angove played well for the Eagles.
Newbridge scored a 33-point victory against Calivil United at Holloway Air Riverside Oval in Newbridge.
The Maroons led 19-3 at quarter-time and 43-22 at the main break.
A tally of 2.5 to just three points in the third term gave Newbridge a 35-point buffer going into the final term.
The Jack Daley-coached Demons fired up to win the last term, 26-24, but it was the Luke Freeman-coached Newbridge which celebrated an 84-51 victory.
Ryan Burt was in superb form as he kicked six goals in a best-on-ground performance for the Maroons.
The Demons attack was led by Jack Burns on three.
Newbridge's best were Ryan Burt, Thomas Hobson, Caleb Sanders, Harry Whittle, Logan Dixon and Mitch Hocking.
Best for Calivil United were Jack Burns, Phil Ryan, Brock Rogers, Mitch Avard, Jordan Lea and Ollie Murphy.
Pyramid Hill dominated after quarter-time of its clash on Inglewood's turf at Dissy Machinery Oval.
The Bulldogs led 14-12 at quarter-time and then added 5.7 to a point in the second.
Led by the play of Sebastian Relouw, Brad Ladson, Steven Gunther, Gavin James, Ryley Dickens and Billy Micevski, Pyramid Hill charged clear to win 18.18 (126) to 3.7 (25).
Braidy Dickens kicked four goals as Mitch Cheesman and Bailey George added three each for the Nathan Fitzpatrick-coached Bulldogs.
Best for the Darrell Billett-coached Inglewood were Luke Matheson, Alex Lowe, Nathan Angelino, Charlie Ingham, Thomas Alexaner and Gabe Nevins.
Marong had the bye.
Loddon Valley FNL senior footy ladder:
Pyramid Hill 304 per cent, 32 points; Marong 279, 28; Bridgewater 122, 20; Mitiamo 118, 20; Bears Lagoon Serpentine 78, 16; Inglewood 68, 12; Newbridge 49, 8; Calivil United 59, 4; Maiden Gully YCW 49, 4.
Leading goalkickers:
58 Brandyn Grenfell, Mar.
30 Josh Martyn, B'water.
29 Bailey George, PH.
21 Jason Butty, MGYCW; Justin Laird, BLS.
20 Braidy Dickens, PH.
19 Andy Collins, B'water.
18 Jay Reynolds, Miti.
17 Chris Dixon, New.
16 Andrew Gladman, BLS.
15 Jacob Greenwood, CU.
14 Harry Whittle, New.
13 Ryley Taylor, Mar.
12 Nathan Devanny, Mar.; Rhonen Maher, BLS; Kyle Manley, Mar.; Lloyd Needs, B'water; Ryan Wellington, Miti.
The Loddon Valley FNL takes a break for the Queen's Birthday holiday weekend.
Round 10 on June 18 features Pyramid Hill against Bridgewater at Mitchell Park.
Bears Lagoon Serpentine takes on Mitiamo at Gadsden Finance Serpentine Reserve.
Inglewood up against Calivil United at Dissy Machinery Oval.
Marong faces Maiden Gully YCW at Malone Park.
Newbridge has the bye.
Written by Nathan Dole.