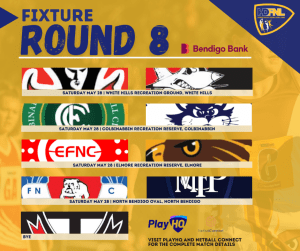 CHASING consecutive wins is something Lockington Bamawm United has rarely done in A-grade netball across recent years in the Bendigo Bank Heathcote District Football Netball League.
The LBU Cats will be doing so this Saturday when they travel to Colbinabbin's M.J. Morgan Reserve for the eighth round of the '22 campaign.
The Jessie Hardess-coached LBU scored a 52-25 win against an under-strength North Bendigo in last Saturday's match at Lockington.
It was the Cats second win of the season after a 47-41 win on Leitchville-Gunbower's court at Gunbower in round three.
Lockington Bamawm faces a big ask against a Colbinabbin line-up which finished within a goal of the unbeaten Elmore at Colbo in round four and won last Saturday's clash at Huntly by 16 goals.
The Huntly Hawks head further north this Saturday to play on Elmore's court.
Despite last Saturday's loss, Huntly still holds fifth place on the ladder, but now just a win clear of LBU.
Elmore scored 70 goals in its win at Leitchville and is likely to have too much scoring power for the Hawks to hold in this contest.
The second-placed White Hills is back at Scott Street to take on Leitchville-Gunbower Bombers.
Latest hit-out for the Lauren Bowles-coached White Hills ended in a 58-34 win at Heathcote's Barrack Reserve.
Key players in the Demons' squad include Rhiana Broadbent, Lara Daly, Zoe Kennedy and Tegan Elliston.
After a bye, Mount Pleasant will be keen to keep the winning run rolling when it plays North Bendigo at Hibo Hotel Oval in Atkins Street.
The Blues marked four wins in a row as they beat LBU by 21 goals in round six at Toolleen.
In-form players for the Carine Comer-coached Mount Pleasant include centre Maeve Tupper, and goashooter Liv Slattery.
The Shellie Davies-coached North Bendigo will be hopeful of fielding a stronger line-up this round after the Bulldogs were beaten by the Cats.
Heathcote has the bye.
Last week
Mount Pleasant had the bye.
Heathcote DFNL's A-grade netball ladder:
Elmore 152 per cent, 28 points; White Hills 151, 20; Mount Pleasant 110, 16; Colbinabbin 99, 16; Huntly 95, 12; Lockington Bamawm United 94, 8; Heathcote 81, 8; Leitchville-Gunbower 82, 4; North Bendigo 60, 4.
Written by Nathan Dole.