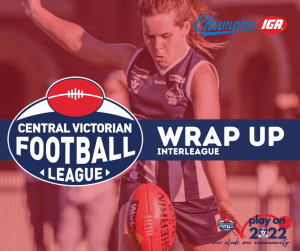 THE Champions IGA-backed Central Victoria FL senior women's footy team dominated Sunday's inter-league challenge with Northern Country.
Coached by Hawthorn's premiership player of 2008 in Rick Ladson, CVFL's stars shone on the Queen Elizabeth Oval in Bendigo.
Now coaching Bridgewater in the Loddon Valley FNL senior competition, Ladson and his wife Carly were joint coaches of Golden Square's premiership-winning team of 2021.
In Sunday's match, a score of 5.7 to nil in the first quarter was a sign of Central Victoria's dominance at the centre breaks and through midfield.
An attack that included Shelby Knoll, Britney Mueck and Charlotte Beavan was in hot form.
Central Victoria kicked away to lead 60-nil at half-time and then slammed on 6.3 in the third quarter.
Northern Country worked hard to set up attacks, but they were quickly stopped by a tight-knit CV defence.
The CV team scored 6.2 in the final term to complete a 22.17 (149) to nil victory.
Now playing with Castlemaine after Kangaroo Flat disbanded on the eve of the season, Shelby Knoll kicked a match-high seven goals.
Golden Square's Charlotte Beavan finished with four goals as Bendigo Thunder's gun forward Britney Mueck added three.
Talented teenager Keely Hare, who plays for Golden Square in CVFL senior women's and also for St Arnaud in North Central's under-14s competition finished with two.
Also on the goalkicking list were Amanda Carrod, Lily den Houting, Meg Ginnivan, Bree Heiden, and Taylah Moore, Megan Williamson.
Best players for Central Victoria were Megan Williamson, Meg Ginnivan, Shelby Knoll, Lily den Houting, Amanda Carrod, and Shae-Lee Murphy Burke.
The Central Victoria FL team which played Northern Country and their clubs:
Bendigo Thunder – Phoebe Cuttriss, Britney Mueck, Shae-Lee Murphy-Burke, Megan Williamson.
Castlemaine – Ella Cochrane, Emily Cooper, Meg Ginnivan, Shelby Knoll.
Eaglehawk – Lily den Houting, Freyja Pearce.
Golden Square – Charlotte Beavan, Amanda Carrod, Jessica Cox, Carly Geary, Keely Hare, Bree Heiden, Liz Watkins, Andrea Wilson.
Kyneton – Heidi Erasmus, Belinda Hateley, Taylah Moore, Ursula van Dyk.
Strathfieldsaye – Britt Tangey.
Emergencies were Maddie Jelbart from North Bendigo; Kyneton's Teagan Ainslie and Jordan Savoia; and Strathfieldsaye's Molly Pianta.
Less than a week after being team-mates, the stars from Golden Square and Castlemaine will meet in this Friday night's start to Indigenous Round.
The Bulldogs and Castlemaine will play at Fur Life Oval in Wade Street from 6.30pm.
Action is under lights on Saturday when Eaglehawk plays Kyneton at Canterbury Park from 5.15pm.
Finale to the round is on Sunday when North Bendigo takes on Strathfieldsaye from 2.30pm at Hibo Hotel Oval in Atkins Street.
Bendigo Thunder and Kerang have the bye.
Written by Nathan Dole.