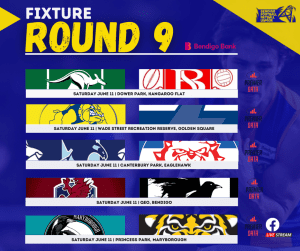 GOLDEN Square and Eaglehawk face massive tests as the Bendigo Bank Bendigo Football Netball League's senior footy competition hits the halfway mark in this Saturday's ninth round.
The Bulldogs are on home turf against Strathfieldsaye at Fur Life Oval in Golden Square's Wade Street for the Queen's Birthday holiday weekend match.
Rocked by injuries to many key players, Eaglehawk takes on the unbeaten Gisborne in the Hawks' nest at Canterbury Park.
Despite a 15-point loss in last Saturday's clash with Gisborne at Gardiner Reserve, there was plenty to like about Golden Square's play.
Gun forward Joel Brett booted three goals to lift his season tally to 44 goals.
A Bulldogs' attack which features Brett, the high-marking Jayden Burke and Tom Strauch, and Braydon Vaz will test Storm's defence.
Supply will be crucial for the blue and gold and that's where the play of Jack Geary, Hamish Morcom, Jake and Will Thrum, ruckman Matt Compston, Liam Barrett and Jarrod Fitzpatrick will be important.
The Bulldogs have a talented defence led by Jon Coe, Will Lee and Jack Merrin.
A key match-up for the Christian Carter-coached Golden Square will be against the in-form James Schischka who kicked nine goals in Storm's win against Kangaroo Flat at Triple M Park in Tannery Lane.
Despite injuries to stars such as Kallen Geary and Lachlan Sharp, Strathfieldsaye just keeps on marking up the wins.
A week after a one-point win against South Bendigo on the QEO, Storm thrashed the Kangaroos by 159 points as Riley Clarke, Riley Wilson, Jye Formosa and Joseph Mayes were all multiple goalkickers.
Players to watch for the Darryl Wilson and Shannon Geary-coached Storm include Jake Moorhead, Callum McCarty, Tim Hosking, Caleb Ernst  and Lachlan Gill.
The versatile Harry Conway was named as rover, but is likely to start in attack.
After a dramatic one-point win at Castlemaine's Camp Reserve, Eaglehawk is back on home turf to take on Gisborne.
The depth of the Travis Matheson-coached Hawks' squad will be tested in the next few rounds.
The Borough's attack at Castlemaine was led by Billy Evans, Liam Marciano and Matt Noden on two goals each.
A highlight for the Two Blues was the play of Sam Thompson and Dillon Williams.
Up against a formidable Gisborne on-ball brigade, the Hawks will need big games from the likes of Evans, Noah Wheeler and ruckman Jack Lawton.
A defence led by Oscar Madden, Joel Mullen and Fraser Verhey could have a busy afternoon.
The Rob Waters-coached Gisborne has strength and skill on every line.
A formidable attack includes Josh Kemp, captain Pat McKenna, Matt Merrett and Matt Panuccio.
Ruckman  Braidon Blake was best afield in the clash of the Bulldogs and looms as a major threat to the Hawks.
Other players to watch for the Rob Waters-coached Gisborne include Jack Reaper and Jaidyn Owen in defence, Flynn Lakey, Sebastian Bell-Bartels, Sam Graham and Jake Normington.
Sandhurst faces a danger game against Castlemaine at Queen Elizabeth Oval.
The Dragons will start favourites to take the points, but cannot afford to relax against the Don Moran-coached Magpies who almost upset Eaglehawk.
An 11-point loss at Kyneton has put Sandhurst two wins adrift of the fifth-placed Tigers.
Dragons' assistant coach David Gallagher took charge at Tigerland in the absence of senior coach Ash Connick.
Key players for Sandhurst include experienced on-ballers Lee Coghlan and Blair Holmes, forwards Matt Thornton, Joel Wharton and Cobi Maxted, ruckman Hamish Hosking, Noah Walsh and Liam Ireland.
Castlemaine's attack against Eaglehawk was led by Tommy Horne, three; Brad Keogh and Callum McConachy, two.
Playing in an on-ball role, Horne is in hot form.
Bailey Henderson was named as ruck-rover for this match.
The Magpies will also look to Jackson Hood, Will Moran, John Watson, Riley Pedretti and Dakota Slingo to continue their great form and have a major impact.
A much-improved Maryborough is back on home turf at Princes Park to take on Kyneton.
It's another tough game for the Rick Andrews-coached Magpies as the Tigers chase a fifth consecutive win.
The Maryborough attack is led by Chris Freeman, while Kya Lanfranchi, Thomas Gardam, Jayden Hooper, Lucas Hurse and Jacob Lohmann were best in the clash with South Bendigo at the QEO.
The Magpies will also look to Aidan Hare, Coby Perry and Jake Postle to win plenty of the ball.
Kyneton struck back from losses to Gisborne, Strathfieldsaye and South Bendigo to win at Kangaroo Flat by 79 points, defeat Golden Square at Tigerland by seven points, and then won 80-59 at Eaglehawk.
The Paul Chapman-coached Tigers showed plenty of fight to turn a 10-point deficit at the start of the final term against Sandhurst into a 73-62 victory as Rhys Magin, six goals, and Cameron Manuel, two, led the attack.
In-form players for the yellow and black include ruck-rover Hamish Yunghanns, Frazer Driscoll in defence, rover Dean Bartrop, Jake Safstrom at half-back and Bailey McGee.
A talented line-up in yellow and black includes Harrison Huntley, Angus Nolte and Louis Thompson.
Kangaroo Flat will aim to bounce back from a big defeat when it takes on South Bendigo on the Roos' ground at Dower Park.
Jake Hywood kicked both of Flat's goals against Storm.
The play of ruckman/forward Nick Lang, Liam and Mitch Collins, Sam Barnes, Ryan O'Keefe and Brodie Fry will be crucial to the Roos' chances of keeping the pressure on the Bloods all match.
Talented youngsters in the James Flaherty-coached Kangaroos squad include Lachy Wilson, Mitch Rovers, Campbell Smith, Patrick Murphy and Hamish Lockhart.
South Bendigo has to keep winning to stay in touch with the top five.
The Nathan Horbury-coached Bloods scored a hard-fought win against Maryborough as Michael Herlihy, four goals, Brock Harvey and Will Keck, two each, led the attack.
In-form players for South Bendigo include Isaiah Miller, Oscar White on a wing, Sam Langley, Braydan Torpey and Cameron Taggert.
Half-forward Joel Swatton is up against his former club, while the Harvey brothers, Brock and Regan play key roles in attack and defence respectively.
South Bendigo will be without on-baller Liam Byrne and Braydon Torpey.
The Bloods will also be aiming for a sizeable increase to their percentage.
Bendigo FNL senior footy ladder:
Gisborne 294 per cent, 32 points; Strathfieldsaye 221, 28; Golden Square 230, 20; Eaglehawk 128, 20; Kyneton 108, 20; South Bendigo 94, 16; Sandhurst 117, 12; Kangaroo Flat 51, 8; Castlemaine 35, 4; Maryborough 23, 0.
Leaders in the Ron Best Medal goalkicking award:
44 Joel Brett, GS.
30 Rhys Magin, Kyn.; Pat McKenna, Gis.
27 Jayden Burke, GS.
23 Brock Harvey, SB; Josh Kemp, Gis.; James Schischka, S'saye.
22 Cameron Manuel, Kyn.
20 Cobi Maxted, Sh; Lachlan Sharp, S'saye.
16 Darcy Richards, Eh; Braydon Vaz, GS; Joel Wharton, Sh.
15 Kaiden Antonowicz, SB; Chris Freeman, Mb; Liam Marciano, Eh; Matthew Merrett, Gis.
13 Jack Scanlon, Gis.; Lachy Wilson, KF.
12 Kallen Geary, S'saye; Matthew Panuccio, Gis.; Ryan Pretty, Kyn.; Mitch Rovers, KF; Matt Thornton, Sh.
11 Ben Thompson, Eh.
Written by Nathan Dole.