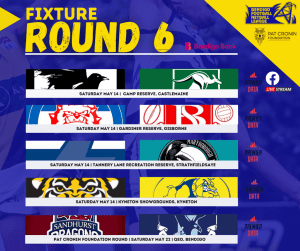 THE Castlemaine Magpies will strive to halt Kangaroo Flat's run from defence and through mid-court in Saturday's start to the sixth round of A-grade netball in the Bendigo Bank Bendigo Football Netball League.
It's a big weekend as the league marks Community Umpiring Round, and also the Pat Cronin Foundation Round.
The Pat Cronin Foundation is aimed at raising awareness about the dangers of the "coward punch" and stemming all violence across the state.
On the netball court, Castlemaine has marked a great return to the A-grade competition by winning three matches.
The Magpies are yet to have a full-strength team take to the court, and will hope to be bolstered by some key inclusions for the clash with the talented Kangaroo Flat line-up.
In last Saturday's play, Castlemaine was beaten 61-46 by South Bendigo at Queen Elizabeth Oval.
The Jayden Cowling-coached Kangaroo Flat won 65-40 against Kyneton on the Kangaroos' court at Dower Park.
Another big match will be at Gisborne's Gardiner Reserve where the Bulldogs take on South Bendigo.
Gisborne dominated last Saturday's match at Strathfieldsaye's Triple M Park to win by 33 goals.
After a 33-goal loss at home to Sandhurst in round one, Gisborne is on a four-game winning streak.
Stung by a loss to Sandhurst in the clash of the QEO co-tenants and then a draw at Kyneton, South Bendigo was too strong for Castlemaine in round five.
The Jannelle Hobbs-coached South Bendigo will be aiming to keep the intensity at a high level in all quarters at Gisborne.
At Strathfieldsaye, Storm will chase win number two against Maryborough.
Storm began the season by beating Eaglehawk at Triple M Park in Tannery Lane and then took on Sandhurst, Kyneton, Castlemaine and Gisborne.
The Alicia Cassidy-coached Maryborough has shown plenty of promise, especially in last week's 56-30 against Eaglehawk at Princes Park.
A win at Strathfieldsaye would put Maryborough level on points with Castlemaine, should the 'Maine be beaten by Kangaroo Flat.
At Tigerland, Kyneton takes on Golden Square.
The Tigers are on the rebound from a 25-goal loss at Kangaroo Flat, but if able to bring the level of play it had against South Bendigo in round four then they should take the points against the Bulldogs.
The team in blue and gold will be desperate to avoid a blow-out this round.
A split sixth round will be completed on May 21 when Sandhurst plays Eaglehawk at Queen Elizabeth Oval.
The ladder-leading Dragons won 93-23 in last Saturday's match on Golden Square's court at Fur Life Oval in Wade Street.
Standings in the Bendigo FNL's A-grade netball competition:
Sandhurst 207 per cent, 20 points; Kangaroo Flat 217, 16; Gisborne 129, 16; South Bendigo 124, 14; Castlemaine 102, 12; Maryborough 90, 8; Kyneton 73, 6; Eaglehawk 68.18, 4; Strathfieldsaye 68.16, 4; Golden Square 35, 0.
Written by Nathan Dole.