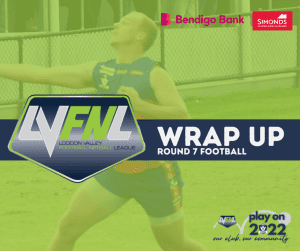 MARONG'S gun forward Brandyn Grenfell has passed the 50-goal mark in just seven matches after Saturday's seventh round of senior footy in the Bendigo Bank Loddon Valley Football Netball League.
Grenfell kicked eight goals as Marong beat Bears Lagoon  Serpentine by 100 points at Malone Park.
The Panthers raced to a 56-18 lead by quarter-time and almost hit the century in the first half as they led 98-36 at the main break.
Accuracy was a highlight for the Justin Laird-coached Bears who had six straight goals in the first half and then won the third term, 4.0 to 3.4.
The Linton Jacobs-coached Marong finished the match with plenty of run as it scored 8.5 to 2.1 in the last to complete a 173-73 victory.
Marong's attack was led by Brandyn Grenfell, eight; Nathan Devanny, four; and former coach Corey Gregg, three.
Leading goalkickers for the Bears were Andrew Gladman, four; Justin Laird and Miggy Podosky, two.
Best for the Panthers were Corey Gregg, Ryley Taylor, Jimmy Gadsden, Ben Gregg, Jack McCaig and Brandyn Grenfell.
The Bears' best were Charlie Gadsden, Kalem Paxton, Justin Laird, Josh Walsh, Harrison Gadsden and Rhonen Maher.
This season's goal tallies for Brandyn Grenfell are eight, six, three, two, 11, 14, and eight.
Two of Bridgewater's most important players, Andy Collins and Josh Martyn played key roles as the Mean Machine rolled to a 52-point win on Newbridge's turf at Holloway Air Riverside Park.
The Machine led 48-33 at half-time and then upped its pressure and run to score 5.4 to 4.1 in the third and 5.5 to 1.1 in the last to win 117 to 65.
Martyn kicked seven goals and Collins chipped in with six for the Rick Ladson-coached Machine.
Newbridge's attack was led by Chris Dixon on five.
Bridgewater's best were Luke Harrison, Jack Symons, Andy Collins, Zane Hoiles, Emile Pavlich and Lachlan Allison.
Logan Dixon, Harry Whittle, Chris Dixon, Tyler McLeod, Jordan Anderson and Thomas Hobson played well for the Luke Freeman-coached Maroons.
Mitiamo took the points, but was under the pump in a brilliant final quarter burst by Maiden Gully YCW at Marist College.
The Marcus McKern-coached Superoos le3d 35-23 at half-time and looked to have put the result beyond doubt when they scored 7.2 to 1.3 in the third quarter.
Despite the margin, Maiden Gully YCW did not give up and slammed on 7.2 to 1.2 in the final term.
At the final siren it was Mitiamo which led 87 to 76.
The Superoos' attack was led by Doug Thomas on four goals.
Leading goalkickers for the Eagles were ruckman Chris Howgate, three; and Nathan Murley, two.
Mitiamo's best were midfielder Ross Turner, Harry McCormick, Jarryd Wiegard, Troy Rogers, Brayden Baines and Ryan Wellington.
Jack Gallaher, Nathan Murley, Cooper Hale, Hamish McCartney, Joel Dwyer and Daniel Baldwin played well for the Eagles.
Since a 195-16 loss at Pyramid Hill in round five, the Wayne Mitrovic-coached Eagles have struck back to win at Calivil and be within 11-points of the third-placed Superoos.
Pyramid Hill held Calivil United to a goal in the match on the Bulldogs' ground at Mitchell Park.
The Bulldogs led 17-1 at quarter-time and 38-2 by the long break.
Pyramid Hill worked incredibly hard to keep the Demons goalless until three quarter-time.
Calivil United broke the deadlock in the final term through Jake Lawry.
The Nathan Fitzpatrick-coached Bulldogs won 73-8 in a match where Ryley Dickens, Jack Timmins, Gavin James, Nathan Catherwood, Steven Gunther and Ed Caburnay were best.
It was a tough afternoon for the Jack Daley-coached Calivil United which two weeks ago triumphed at Bridgewater by 16 points, but since then being beaten by Maiden Gully YCW and a rampant Pyramid Hill.
Best for the Demons on the Hill's ground were Phil Ryan, Evan Ritchie, Blair Richards, Jordan Lea, Lachlan Brook and Nick McPherson.
The list of Pyrmaid Hill's goalkickers was not supplied.
Inglewood had the bye.
Loddon Valley FNL senior footy ladder:
Marong 250 per cent, 24 points; Pyramid Hill 237, 24; Mitiamo 127, 20; Bridgewater 109, 12; Inglewood 84, 12; Bears Lagoon-Serpentine 61, 8; Calivil United 75, 4; Newbridge 52, 4; Maiden Gully YCW Eagles 48, 4.
Leading goalkickers:
52 Brandyn Grenfell, Mar.
21 Josh Martyn, B'water.
19 Andy Collins, B'water.
16 Bailey George, PH.
14 Chris Dixon, New.; Jacob Greenwood, CU; Justin Laird, BLS; Jay Reynolds, Miti.
13 Jason Butty, MGYCW; Harry Whittle, New.
11 Nathan Devanny, Mar.; Adrian Pappin, Mar.
10 Traiton Kendal, I'wood; Charlie McGaw, I'wood; Kain Robins, Mar.; Ryley Taylor, Mar.
9 Braidy Dickens, PH; Kyle Manley, Mar.
8 Andrew Gladman, BLS; Jake Lawry, CU; Alex Lowe, I'wood; Lloyd Needs, B'water; Rhonen Maher, BLS; Cody Wright, I'wood.
Goals from Inglewood's win at Calivil in round one, and Pyramid Hill's round seven win against Calivil United to be added.
In next Saturday's eighth round, Calivil United takes on Marong at Calivil.
Pyramid Hill and Newbridge clash at Mitchell Park.
Bears Lagoon Serpentine is on home turf at Gadsden Finance Serpentine Reserve against Inglewood.
Bridgewater tackles Maiden Gully YCW Eagles at Bridgewater.
Mitiamo has the bye.
Written by Nathan Dole.