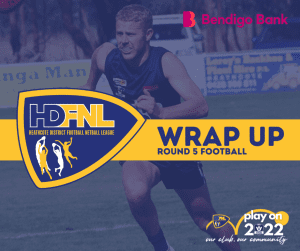 MOUNT Pleasant has moved to top spot on the senior footy ladder after Saturday's big win against Huntly in round five of the Bendigo Bank Heathcote District Football Netball League season.
The Blues dominated in a 133 to 32 victory in the Hawks' nest at Huntly's Strauch Reserve.
A Michelsen medallist and multiple premiership star with Golden Square, Adam Baird was in outstanding form for the Blues.
Baird kicked a match-high six goals as the in-form Ben Weightman added four on the way to a 20.13 (133) to 4.8 (32) victory.
Other multiple goalkickers for the Blues were Jack Hamilton, Riley McNamara, Zebb Murrell and Daniel Whiting on two each.
The Hawks had four individual goalkickers which included coach Stacy Fiske.
Best for the Darren Walsh and Adam Baird-coached Blues included Hamilton, McNamara, ruck-rover Billy Mahony and Daniel Whiting.
Huntly's best were Mitch Christensen, Tori Ferguson, Mitch Billings, Jay McDonald, Matthew Jeffries and Tyler Miles.
Just up the road from Huntly and it was White Hills up against Elmore in the Demons' den at Scott Street.
White Hills led 20-19 at quarter-time and 52-45 at half-time.
Led by the play of Nathan Moffat, onballer Brady Childs and Ryan Walker, White Hills slammed on 9.5 and held the Bloods to three goals in the crucial third term to lead by eight goals going into the last term.
Elmore did not give up and scored 7.3 to 2.2 in the last as Darcy Laffy went on to kick a match-high eight goals.
At the final siren the Jack Fallon-coached White Hills led 125 to 108.
Liam Bartels led the Demons' attack on five goals as Cohen Kekich, three; Gavin Bowles and Eli Pearce, two, were also on target.
The Bloods' goalkickers included Dylan Oaff on three and co-coach Dylan Gordon on two.
Best for White Hills included Bayden Fallon, Kekich and Bartels.
Elmore, which is jointly coached by Dylan Friedberger, named Gordon, Darcy Laffy, Kyle Armstrong, Rhys Holmberg, Zack Holmberg and Dylan Oaff as best.
The Colbinbabbin Grasshoppers kicked clear in the last term to win the clash on Heathcote's turf at Barrack Reserve by 33 points.
Heathcote made a brilliant start to the contest and led 32-6 at quarter-time.
The Andrew Saladino-coached Saints led 45-39 by the long break, but the Julian Bull-coached Colbinabbin upped its play to gain a one-goal lead going into the final term.
The play of Matt Riordan, Ben Barton and Laine Fitzgerald was a key to Colbo dominating the final term, 5.4 to 1.1, to claim a 97-64 victory.
Jed Brain kicked five goals for the Grasshoppers as Clint Shields, four, and Laine Fitzgerald, three, also capped off attacking moves.
Heathcote's leading goalkickers were Braden Padmore, four, and Kai Cavallaro, three.
Colbo's best included Shields, Alex Van Ruiswyk and Joel Sacco.
Padmore, Codie Price, Brayden Klemke, Connor Hamilton, Brent Jane and William Direen played well for the Saints.
North Bendigo had some significant inclusions for the clash on Leitchville Gunbower's turf at Gunbower.
Among those in for the Bulldogs were ruckman Jeremy Lambden and classy Collingwood VFL onballer Lachlan Tardrew.
Both played starring roles as the Bulldogs won 17.19 (121) to 6.6 (42).
North Bendigo led 68-34 at half-time and then slammed on 6.7 to 1.1 in the third to lead by 70 points.
Matt Gray led the attack on three goals as James Bennett, Jordan Ford, Sean Moyle, Zaiyden Richards and, Lachlan Tardrew added two each.
The only multiple goalkicker for Leitchville Gunbower was Ayden Walton with two.
Best for the Bulldogs included Tyson Tresize, Beau Cross and Sean Moyle.
The Bombers' best were Jobee Warde, Mitchell Candy, Nathan McLellan, Samuel Lewis, Billy Hawken and Ayden Walton.
Lockington Bamawm United had the bye.
A highlight of next Saturday's sixth round will be the showdown between Mount Pleasant and Lockington Bamawm United at Toolleen.
Elmore hosts Heathcote, and Colbinabbin faces Leitchville Gunbower at M.J. Morgan Reserve.
The Golden City Cup will be up for grabs in the North Bendigo and Huntly clash in the Bulldogs' kennel at Hibo Hotel Oval in Atkins Street.
White Hills has the bye.
Heathcote DFNL senior footy ladder:
Mount Pleasant 256 per cent, 20 points; Colbinabbin 192, 20; Lockington Bamawm United 269, 16; North Bendigo 125, 12; White Hills 69, 8; Heathcote 71, 4; Leitchville Gunbower 36, 4; Elmore 61, 0; Huntly 54, 0.
Leading goalkickers:
26 Ben Weightman, MP.
15 Laine Fitzgerald, Colbo.;
14 Matt Gray, NB.
13 Ben Fulford, LBU.
12 Adam Baird, MP; Jed Brain, Colbo.; Dylan Klemm, NB.
11 James Brain, Colbo.; Kai Cavallaro, H'cote; Darcy Laffy, Elm.
10 Braden Padmore, H'cote.
9 Jordan Ford, NB; Cohen Kekich, WH; Anthony McMahon, LBU; Dean Tydell, MP.
8 Blake Azzopardi, LG; Mitch Dole, WH; Clint Shields, Colbo.;
7 Bayden Fallon, WH; Connor Hamilton, H'cote; Luke Moore, Colbo.; Cody Riddick, NB; Rhys Woodland, LBU.
Written by Nathan Dole.