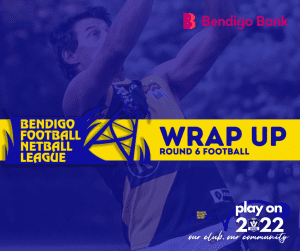 KYNETON has climbed to the fifth rung on the Bendigo Bank Bendigo Football Netball League's senior footy ladder after Saturday's thrilling win against Golden Square.
A 95-88 result at Kyneton Showgrounds capped a great start to the split sixth round.
Matches were part of Umpire Appreciation Round across the AFL Central Victoria region, and also through the newly-formed links with the Pat Cronin Foundation to raise awareness about the ramifications of the "coward punch" and ways to stop violence.
On the footy field a parochial crowd packed Kyneton Showgrounds to watch the Tigers take on the Bulldogs.
The yellow and black led 20-13 at quarter-time, but Golden Square won the second term, 29-19, to hold a three-point buffer at the main break.
A terrific contest rolled on as the Paul Chapman-coached Kyneton was within two points at a quarter to go.
Led by the play of James Orr, Dean Bartrop and Ben Cameron it was the Tigers who roared in the last term as they added 4.1 to 2.4 to claim a 95-88 victory.
Cameron Manuel led the Tigers attack on five goals as Ben Cameron kicked four and Dean Bartrop chipped in with two.
It was a brilliant effort by the Kyneton forward line as the in-form Rhys Magin was kept to a goal.
Golden Square's leading goalkickers were Braydon Vaz, four, and Joel Brett, two.
The Tigers' best included Frazer Driscoll, Angus Nolte and Jake Safstrom.
Best for the Bulldogs were Jon Coe in his 150th match, Jack Merrin, Jack Geary, Vaz, Jack Hickman and Liam Barrett.
The Christian Carter-coached Golden Square is now 4-2 after being defeated by Sandhurst and Kyneton.
The unbeaten Gisborne showed it has plenty of depth and goalscoring power in a 106-point win against South Bendigo on the Bulldogs' ground at Gardiner Reserve.
Despite being without gun forwards Pat McKenna and Jack Scanlon, Gisborne racked up 23 goals in the 152 to 46 win against a Bloods line-up which had won three matches in a row.
The unbeaten and ladder-leading Bulldogs put in a second quarter blitz of 7.4 to a goal to lead by 46 points at the long break.
Led by the play of ruckman Braidon Blake, classy forward Josh Kemp, Scott Walsh and Liam Spear the Rob Waters-coached Gisborne scored 13 goals and held the Bloods to just four in the final hour.
Bloods' coach Nathan Horbury was among the best with Michael Herlihy, Cooper Leon and Liam Byrne.
Four goals by talented youngster Mitch Rovers earned best afield honours in Kangaroo Flat's win at Castlemaine's Camp Reserve.
The Roos had not won since their first-round victory at home against Maryborough.
A closely-fought opening half at Castlemaine ended with the Roos in front, 34-28.
It was in the third quarter the James Flaherty-coached Kangaroo Flat seized control to score 4.7 to 1.1.
Defences were well on top in the final term as the Roos went on to win 11.14 (80) to 6.7 (43).
It was Rovers and Lachy Wilson, three goals, who led Flat's attack.
Castlemaine's only multiple goalkicker was Tom Cain on two goals.
Best for the Roos included Liam Collins, Patrick Murphy, Campbell Smith, Max Johnson and Lachy Wilson.
Cain, Tommy Horne, Riley Pedretti, Will Moran, Callum McConachy and Jack Chester were best for the Don Moran-coached Magpies.
A tally of 17 goalkickers and 59 scoring shots was an indicator of Strathfieldsaye's dominance of the match against Maryborough in Storm territory at Triple M Park in Tannery Lane.
A midfielder or half-back flanker for a lot of his career, Kallen Geary kicked a match-high seven goals for Storm in a 33.21 (219) to 1.5 (11) victory.
Storm was on the rebound from its first defeat since early April in 2021 at Gisborne and showed no mercy for a young Magpies' line-up.
Strathfieldsaye led 35-2 at quarter-time and then scored 7.7 to nil in the second term.
Storm's third-quarter blitz yielded 12 goals as the Magpies finally goaled through Damon Lewis.
Led by the play of Baxter Slater, Kallen Geary, Jake Moorhead, and four goals by Malik Gordon, Storm did not let up.
The goalscoring spree included three by Thomas Bennett and Lachlan Gill.
Best for the Rick Andrews-coached Maryborough were ruck-rover Aidan Hare, Kya Lanfranchi, Patrick Chard and Lachlan Hull.
Round six will be completed this Saturday when Sandhurst and Eaglehawk play at Queen Elizabeth Oval.
It's the feature match of the Pat Cronin Foundation Round in which players will wear yellow armbands in memory of Pat.
Bendigo FNL senior footy ladder:
Gisborne 331 per cent, 24 points; Strathfieldsaye 212, 20; Golden Square 220, 16; Eaglehawk 147, 12; Kyneton 104, 12; South Bendigo 85, 12; Sandhurst 105, 8; Kangaroo Flat 68, 8; Castlemaine 36, 4; Maryborough 19, 0.
Written by Nathan Dole.