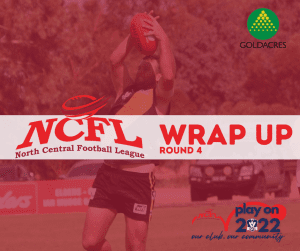 SEA Lake Nandaly Tigers ended Wedderburn's winning start to the season in Saturday's fourth round of the Goldacres North Central Football League's senior footy action.
The Tigers dominated the first half on their ground at Sea Lake to lead 67-12 by the main break.
The Sam Barnes-coached Wedderburn lifted to win the third term, 12-2, ahead of a closely-fought final quarter which the Tigers won 28-19.
At the final siren it was the Joel Donnan-coached Tigers who led 14.13 (97) to 6.7 (43).
Billy McInnes kicked six goals for the yellow and black as Justin Ellis and Austin Mertz added three apiece.
The Tigers defence worked hard to hold a Redbacks attack in which Danny Benaim and Tom Campbell were the multiple goalkickers on two each.
Best for the Tigers were Austin Mertz, Brodie Adcock, ruckman Ryan O'Sullivan, onballers Trent Donnan and Bryce Delmenico, and Charlie Cox.
Corey Lowry, Darcy Jackson, Samuel Lockhart, Jayden Jones, Jordan Rosengren and Hamish Winter-Irving played well for the Redback.
Donald marked a big win against Charlton on the Royal Blues' turf.
The ladder leaders led 6.9 to nil at quarter-time and had built a 54-point margin by the long break.
Led by the play of Ryley Barrack, key forward Leigh Burke, and Ryan Hards, Donald slammed on 7.3 to nil in the third term and 9.4 to 1.2 in the last to complete a 25.19 (169) to 3.2 (20) victory.
A seven-goal haul by Leigh Burke was one of many highlights for Donald as Josh Potter, five, and Blake Grant, four, also starred in the forward 50m arc.
Charlton's attack was led by Riely Thiesz on two goals.
Best for Donald included Michael Foster, Blake Grant and Will Burke.
The Navies' best were Thomas Finlay, Anthony Judd, Aaron Walklate, Tim Hill, Jackson Zagame and Bailey Dixon.
The Bulls from Birchip Watchem charged to a comfortable win on St Arnaud's turf at Lord Nelson Park.
The Trevor Ryan-coached Bulls led 58-7 at quarter-time and won a closely-fought second term, 27-18.
It was all Birchip Watchem in the third as it scored 9.5 to four behinds.
St Arnaud worked hard to hold the Bulls to 2.3 in the final quarter.
William Sheahan kicked a round-high nine goals as Birchip Watchem won 24.15 (159) to 4.7 (31).
Other multiple goalkickers for the Bulls were Daniel Castellano, five; and Dylan Adkins, three.
The Saints' attack was led by Joshua Hicks on two.
Best for the Bulls were William Sheahan, ruckman Lochy Sirett, Marshall Rippon, Sam Simmons, Daniel Castellano and Stefan Pye.
St Arnaud's best were Mitch Egan, William Bertalli, Kurtis Torney, Jake Hicks, Heath McNally and Ben Batters.
Wycheproof Narraport won Saturday night's clash with Boort by 26 points.
A fired-up Demons team led 16-1 at quarter-time in the Magpies' nest at Boort Park.
The Boe Bish-coached Wycheproof Narraport then added 5.1 to 3.1 in the second to hold a 27-point buffer by the long break.
Boort hit back to win the third term, 13-7, but it was the Demons who scored the only goal of the final term to complete a 9.7 (61) to 5.5 (35) victory against the Andy Hawker-coached Magpies.
Cody Green dominated in Wycheproof Narraport's attack to kick five goals.
Multiple goalkicker for Boort was Brodie Leonard-Shannon on three.
Best for the Demons were Justin Bateson, Gedd Hommelhoff, Jack McHutchison, Dane McLennan, Ryan Duncan and Lachlan Van Schaik.
Alex Davis, Tom Potter, Jesse Muscatello, Sam Green, Keiren Wilson and Jack Smith played well for the Magpies.
North Central FL senior footy ladder:
Donald 366 per cent, 16 points; Sea Lake Nandaly Tigers 375, 12; Birchip Watchem 199, 12; Wedderburn 158, 12; Wycheproof Narraport 62, 8; Boort 47, 4; St Arnaud 33, 0; Charlton 28, 0.
Leading goalkickers:
21 Billy McInnes, SLN.
13 Blake Grant, D.
12 Daniel Castellano, BW; Danny Benaim, W'burn; William Sheahan, BW.
11 Tom Campbell, W'burn;  Justin Ellis, SLN; Jordan Rosengren, W'burn.
10 Leigh Burke, D.
9 Ben DeAraugo, W'burn.
8 Cody Green, WN; Riely Thiesz, C.
7 Elliot Jaeschke, BW; Jaran McKay, W'burn.
6 Dylan Adkins, BW; Joshua Hicks, SA; Brodie Leonard-Shannon, B; Ross Young, D.
5 Justin Bateson, WN; Jacob Christie, BW; Bailey Kemp, C.
4 Cody Brooks, D; Will Burke, D; Trent Donnan, SLN; Jesse Douglas, W'burn; Matt Elliott, SLN; Brody Haddow, D; Frasier Holland, B; Luke Holt, W'burn; Rian McGough, D; Austin Mertz, SLN; Shane Neaves, D; Josh Potter, D.
In next Saturday's fifth round, Wycheproof Narraport hosts Donald.
Charlton takes on Birchip Watchem at Charlton Park.
Sea Lake Nandaly Tigers face St Arnaud at Sea Lake.
Wedderburn and Boort clash on the Redbacks' turf at Donaldson Park.
Written by Nathan Dole.