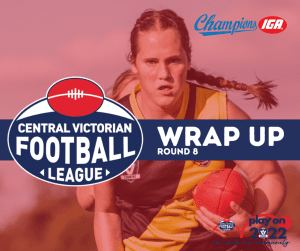 KYNETON silenced Bendigo Thunder in Saturday night's match in round eight of the Champions IGA-backed CVFL senior women's football competition.
Just minutes after Kyneton's senior men's team had scored a thrilling win against Sandhurst in the Bendigo FNL clash, the Tigers took to the field for an important women's game at Kyneton Showgrounds.
The Tigers led 19-18 at half-time and then scored 2.2 to just three points in the third term.
Brilliant defence played a big part in the win by the Phil Hawkes-coached Kyneton as it kept Thunder to a point in the final quarter.
The Tigers won 39-22 in a contest where Emma Williams kicked two goals.
Thunder's goalkickers were Sharni Barker and captain Phoebe Cuttriss.
Best for the Tigers were Teagan Ainslie, Rachael Williams, Taylah Moore, Shannon White, Emma Williams and Jordan Savoia.
Jessica Kennedy, Shae-Lee Murphy-Burke, Jacqui Graham, Imogen Kendal, Louise Bibby and Phoebe Cuttriss were best for the Jac Louttit-coached Thunder.
The round included Saturday's night game between Castlemaine and Eaglehawk at Camp Reserve.
The unbeaten Magpies led 33-nil at quarter-time and 48-10 by the main break.
Castlemaine added 4.5 as it kept the Hawks scoreless in the second half.
Shelby Knoll kicked five goals for the Tiahna Cochrane-coached Magpies as Eloise Gretgrix added two.
Ebony Whiley goaled for the Geoff West-coached Two Blues.
Castlemaine's best were Tia Davidge, Victoria Christie, Meg Ginnivan, Michelle Barkla, Jessica Ross and Emily Cooper.
Best for the Hawks were Chloe Green, Lexie Moss, Kirstin Shaw, Anya Cardilini, Courtney Coffey and Jasmine Burzacott.
The round was completed on Sunday when Kerang hosted Golden Square at Riverside Park.
Talented teenager Keely Hare kicked six goals, Charlotte Beavan added five as Jessica Cox and Andrea Wilson chipped in with four and three in a 151-0 victory.
Best for the Todd Deary-coached Golden Square were Charlotte Beavan, Keely Hare, Bree Heiden, Jessica Cox, Andrea Wilson and Monique Williams.
Jessica Searle, Laura Kirby, Jedda Birch, Casey Unger, Kendall Ash and Britt Evans worked hard for the Stephen Arthur-coached Kerang.
North Bendigo has the bye, while Strathfieldsaye hosted Mount Alexander in a Practice Match.
Champions IGA-backed CVFL senior women's footy ladder:
Castlemaine 1075 per cent, 24 points; Golden Square 692, 20; Kyneton 178, 20; Bendigo Thunder 576, 16; Eaglehawk 145, 8; Strathfieldsaye 30, 8; Kerang 6, 4; North Bendigo 1, 0.
Leading goalkickers:
31 Shelby Knoll, Cm.
27 Britney Mueck, BT.
14 Meg Ginnivan, Cm.
12 Shannon Prendergast, Kyn.
10 Keely Hare, GS.
8 Emily Collins, GS; Taylah Moore, Kyn.; Freyja Pearce, Eh.
7 Ella Cochrane, Cm; Georgia Gordon, BT; Samantha Heron, Eh; Mia Ward, GS.
6 Sharni Barker, BT; Charlotte Beavan, GS; Jessica Cox, GS; Tia Davidge, Cm; Lily den Houting, Eh; Michelle McCready, GS; Emma Williams, Kyn.
5 Jasmine Burzacott, Cm; Emily Cooper, Cm; Phoebe Cuttriss, BT; Charlotte Edlin, Eh; Heidi Erasmus, Kyn.; Jemma Finning, Cm; Andrea Wilson, GS.
Round nine kicks off this Friday under the Fur Life Oval lights in Wade Street when Golden Square plays Strathfieldsaye from 6.30pm.
On Sunday, Eaglehawk takes on Kerang at Canterbury Park, Bendigo Thunder faces Castlemaine at Weeroona Oval.
Both of those matches start at 2.30pm.
Written by Nathan Dole.