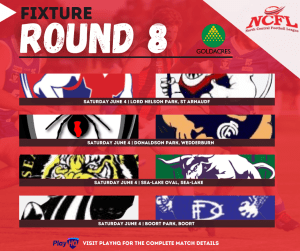 BACK on top of the ladder, Sea Lake Nandaly takes on the third-placed Birchip Watchem in Saturday's eighth round of the Goldacres North Central Football League's senior footy action.
The Tigers and Bulls will clash at Sea Lake Oval.
Stung by an 11-point loss at Birchip's George Cartwright Oval in the first round of the '22 campaign, Sea Lake Nandaly is on a seven-game winning streak.
Latest victory for SLN was by seven goals in last Saturday's home game against Donald.
Trent Donnan capped a best afield performance with three goals as gun forward Billy McInnes also added three majors.
The Tigers best against the Royals included Kane and Wade Donnan, Bryce Delmenico, Luke Martin and Ryan O'Sullivan.
A powerful line-up in yellow and black includes Brodie Adcock and Charlie Cox in defence; Brody Weir and Tyson McKenzie in midfield.
The Tigers will need Will Simpson, Callan Noonan and John Summerhayes to step up in attack as McInnes is not in this week's team.
Birchip Watchem scored an 89-37 win at Wedderburn's Donaldson Park last round as Clayton and Dale Hinkley, Lochy Sirett and Sam Simmons led the way.
A key for the Trevor Ryan-coached Bulls will be limiting supply or forcing haphazard passes into the Tigers' forward line.
Key players for Birchip Watchem include Josh Booth, Patrick Hogan and Dale Hinley in defence; Daniel Castellano and Will Sheahan in attack; Stefan Pye, Dylan Adkins and Elliot Jaeschke.
St Arnaud plays Wycheproof-Narraport at Lord Nelson Park in St Arnaud.
The Demons will start favourite to take the points against the Saints.
In round one, Wycheproof Narraport scored a 71-53 win against St Arnaud.
Win on Saturday and the Demons stay in touch with the fourth-placed Wedderburn.
In-form players for the Boe Bish-coached Wycheproof-Narraport include Gedd Hommelhoff, Trevor Rumbold, James Coatsworth, and Damien Horbury and Joe Kenny across the half-back line.
The Torin Petrie-coached St Arnaud was stung by a four-point loss at home to Boort last Saturday.
Best for the Saints in that contest were Kurtis Torney, Daniel Gifford, Jacob Tillig and Thomas Douglas.
Wedderburn is back at Donaldson Park to take on Charlton.
The Redbacks were held to six goals by Birchip Watchem in a match where Hamish Winter-Irving, Sam Lockhart and Luke Holt played well.
Key players for the Sam Barnes-coached Wedderburn include Jackson Guan at half-back, Danny Benaim and Tom Campbell in attack, Luke Holt in the centre, and on-ballers Jaran McKay and Corey Lowry.
A highlight will be the duel between Wedderburn full-back Adam Postle and Charlton's leading goalkicker, Riely Thiesz.
The Navies welcome back Bailey Kemp to bolster the attack, and will also look for big games from the likes of Tim Hill at half-back, Patrick Soulbusy at full-back, midfielders Darcy McCallum, Patrick Sait and Rhys Thompson, and on-ballers Kade Blow and Aaron Walklate.
Boort chases back-to-back wins, but it will be a tough ask against a Donald team snarling after a defeat.
The Andy Hawker-coached Magpies do have home-ground advantage at Boort Park.
Best for the Magpies against the Saints were Cam Barr, key defender Keiren Wilson and Cody Gunn as Jesse Muscatello led the attack on three goals.
The play of Matt Chisari, Levi Moss, Keanu Padula, Ben Knight, Brodie Leonard-Shannon will be crucial to Boort's hopes of beating the Royals or being competitive in every quarter.
A powerful Donald team includes Rian McGough, Brody Haddow, Ross Young, Ryley Barrack and Daniel Venditti.
Leigh Burke is a key target in an attack that can kick a lot of goals in a short space of time.
North Central FL senior footy ladder:
Sea Lake Nandaly Tigers 389 per cent, 24 points; Donald 234, 24; Birchip Watchem 204, 24; Wedderburn 116, 16; Wycheproof Narraport 75, 12; Boort 46, 8; St Arnaud 41, 4; Charlton 32, 0.
Leading goalkickers:
39 Billy McInnes, SLN.
22 William Sheahan, BW.
20 Daniel Castellano, BW.
18 Tom Campbell, W'burn.
15 Blake Grant, D; Jordan Rosengren, W'burn.
14 Danny Benaim, W'burn.
13 Justin Ellis, SLN; Will Simpson, SLN.
12 Cody Green, WN.
11 Brody Haddow, D; Gedd Hommelhoff, WN.
10 Leigh Burke, D; Will Burke, D; Josh Potter, D; Riely Thiesz, C.
Written by Nathan Dole.