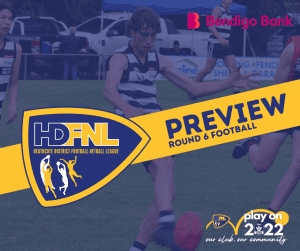 UNBEATEN teams Mount Pleasant and Lockington Bamawm United meet in Saturday's sixth round of the Bendigo Bank Heathcote District Football Netball League's senior footy action.
The round also marks Community Umpiring Round, and also supporting the Pat Cronin Foundation and its efforts to raise awareness about the "Coward Punch" and decreasing violence in all forms.
On the footy front, the Blues have home-ground advantage at Toolleen against a LBU team freshened up by the bye.
Mount Pleasant dominated its past two games as it beat Leitchville Gunbower by 125 points and won at Huntly's Strauch Reserve by 101 points.
There is plenty of firepower in both line-ups.
Blues' star Ben Weightman leads the league goalkicking race on 26 goals and skilful on-baller Adam Baird kicked six majors in the win against the Hawks.
In-form players for Mounts include Jack Hamilton, Billy Mahony, Riley McNamara and Daniel Whiting.
A highlight will be the ruck showdown between Blues' recruit Chris Down and LBU star and Sam Cheatley medallist Tyler Phillips.
Blues' coaches Darren Walsh and Adam Baird will have put a lot of time into ways of stopping the Cats' run from half-back and through midfield.
Stars for the Brodie Collins-coached LBU include Riley McIvor, Rhys Woodland, Jarod Bacon and Lachlan Atherton.
Ben Fulford kicked seven goals in the round three win at Leitchville-Gunbower, but did not play in the Cats showdown with the Huntly Hawks a week later.
The Golden City Cup will be up for grabs as North Bendigo faces Huntly in the Bulldogs' kennel at Hibo Hotel Oval in Atkins Street.
Best afield for the Bulldogs and Hawks will be awarded the Keith Robertson medals.
North Bendigo has extra incentive to play well just days after the passing of Keith Robertson, inductee to the inaugural Hall of Fame, a past club president, long-time trainer, and club legend.
Robertson played a key role in North Bendigo FNC not folding in the early 90s, and later became president of the Heathcote DFNL.
The Robertson links to Atkins Street stretch back decades and many family members have played key roles, on and off-field, in the good and bad times.
Club greats inducted to the Hall of Fame included Keith Robertson's daughter, Denise Bennett, and son, Kevin.
The Bulldogs team for Saturday's match is coached by Robert Bennett, grandson of Keith, and includes two other grandsons, Ryan Alford in a back pocket or half-back flank, and Billy Robertson in his first match back at the club on a half-forward flank.
North Bendigo has a 3-2 record after it bounced back from defeat at White Hills to score a 121-42 victory in last Saturday's match on Leitchville-Gunbower's turf at Gunbower.
Best were ruckman Jeremy Lambden, Lachlan Ford across the half-back line, Tyson Tresize, Beau Cross and Sean Moyle.
A talented attack includes the marking power of Matt Gray and Dylan Klemm.
Triple premiership-winning players Jordan Ford and Aarryn Craig continue to win plenty of the ball, while Nic Waterson and Manny Thalasinos set up many attacks.
Huntly is on the rebound from a 101-point loss at home to the ladder-leading Mount Pleasant.
The Hawks' best against the Blues were Mitchell Christensen, Tori Ferguson, Mitch Billings and Jay McDonald.
Workrate at centre ball-ups and stoppages will be crucial for the Hawks in setting up attacks, but also not allowing the Bulldogs an easy run to the forward 50m arc.
Players to watch for Huntly include coach Stacy Fiske, Tyler Miles, Luke Gray, Tori Ferguson, Orion Downing at full-forward, Brad Chalmers and Steve Kairn.
A huge plus for the Hawks is the return of the skilful Jaydon Cowling.
After a spirited showing in which it was beaten by 17 points at the White Hills ground, Elmore is back home to take on Heathcote.
The Dylan Friedberger and Dylan Gordon-coached Bloods will be confident of marking their first win of '22.
Darcy Laffy put in a superb performance to kick eight goals against White Hills as the athletic Gordon starred in the ruck and also in attack.
Key players for the Bloods include Rhys and Zack Holmberg, Dylan Oaff, Tannar Cerrone, Che Taranto and Zac Laffy.
Heathcote also worked hard to be within 33 points of Colbinabbin when the final siren sounded at Barrack Reserve.
The Andrew Saladino-coached Saints have plenty of attacking options through the likes of Kai Cavallaro, Braden Padmore and Connor Hamilton.
Best for Heathcote against the Grassshoppers were Braden Padmore, Codie Price, Brayden Klemke and Connor Hamilton.
The play of Liam Birch, Brent Jane and Jordan Cavallaro will be crucial as the Saints aim for their second win of the season.
Colbinabbin is back home at M.J. Morgan Reserve to take on Leitchville-Gunbower.
The Julian Bull-coached Grasshoppers will be determined not to allow the opposition to jump them like Heathcote did last week to lead 32-6 at quarter-time.
Colbinabbin worked its way back into the game through the likes of Ben Barton, Laine Fitzgerald, Matt Riordan and Clint Shields.
A talented team in the green and gold includes Luke Moore, James and Jed Brain, Todd Clarke and Hadleigh Sirett.
The Tim Bannan-coached Bombers worked hard to be within 34 points of North Bendigo at half-time, but battled in the final hour.
In-form players for Leitchville-Gunbower include Jobee Warde, Nathan McLellan, Billy Hawken and Ayden Walton.
The Bombers will look to Thomas Guerra, Blake Azzopardi, Matt McLellan and Riley Hore to win plenty of contests.
White Hills has the bye.
Heathcote DFNL senior footy ladder:
Mount Pleasant 256 per cent, 20 points; Colbinabbin 192, 20; Lockington Bamawm United 269, 16; North Bendigo 125, 12; White Hills 69, 8; Heathcote 71, 4; Leitchville Gunbower 36, 4; Elmore 61, 0; Huntly 54, 0.
Leaders in the senior goalkicking race:
26 Ben Weightman, MP.
15 Laine Fitzgerald, Colbo.
14 Matt Gray, NB.
13 Jed Brain, Colbo.; Ben Fulford, LBU.
12 Adam Baird, MP; Dylan Klemm, NB.
11 James Brain, Colbo.; Kai Cavallaro, H'cote; Darcy Laffy, Elm.; Anthony McMahon, LBU.
10 Braden Padmore, H'cote; Tyler Phillips, LBU.
9 Jordan Ford, NB; Cohen Kekich, WH; Anthony McMahon, LBU; Dean Tydell, MP.
8 Blake Azzopardi, LG; Mitch Dole, WH; Clint Shields, Colbo.; Rhys Woodland, LBU.
7 Bayden Fallon, WH; Connor Hamilton, H'cote; Luke Moore, Colbo.; Cody Riddick, NB; Rhys Woodland, LBU.
Written by Nathan Dole.