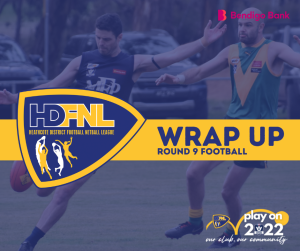 MOUNT Pleasant capped a brilliant final term fightback to beat Colbinabbin in Saturday's ninth round of the Bendigo Bank Heathcote District Football Netball League's senior footy season.
The Blues and Grasshoppers met in the match of the day on Mount Pleasant's turf at Toolleen.
The Blues went into the match without gun on-baller Adam Baird, leg injury, but he was on the sidelines as co-coach with Darren Walsh.
Mounts led 38-26 at half-time, but the unbeaten Colbinabbin lifted its intensity and workrate to win the third term, 38-18.
Stung by a one-point defeat at North Bendigo the previous round the third-placed Mounts needed the win to hold a four-point buffer to the Bulldogs.
The play of Bailey and Fletcher White, ruckman Chris Down and Mitch Bennett was superb as the Blues scored 4.4 to 1.2 in the last to clinch an 84-82 victory.
Ben Weightman again led the Blues' attack on four goals as Mitchell Bennett, three, and Pat O'Brien, two, were also on target.
Colbinabbin's leading goalkickers were James and Jed Brain on five and three.
The Blues' best included Weightman and O'Brien.
Best for the Julian Bull-coached Colbinabbin were Jed Brain, Logan Fitzgerald, Lachlan Ezard, Hadleigh Sirett, Todd Clarke and James Brain.
The fifth-placed Heathcote was too strong for Leitchville-Gunbower at Leitchville.
The Saints led 43-27 at half-time and then scored six straight goals in the third term to lead by 40 points at a quarter to go.
Jackson Jones and Billy Price kicked two goals as many team-mates chipped in with a major on the way to a 100-55 victory.
Leading goalkickers for the Tim Bannan-coached Leitchville-Gunbower were Billy Hawken and Joel Regan on two.
Best for the Andrew Saladino-coached Saints were Jackson Jones, Codie Price, Mitchell McLean, Will Long, Rhys Bolton and Connor Hamilton.
Tom Brereton, Jobee Warde, Billy Hawken, Blake Azzopardi, James Kervin and Joel Regan were best for the Bombers.
White Hills marked a 74-30 win on Huntly's turf at Strauch Reserve.
Liam Bartels and Xavier Fiske-Kealy led the Demons attack on two goals.
Best for the Jack Fallon-coached White Hills were Brady Childs, Ben Bacon, Rhys Irwin, Bayden Fallon, James Davies and Doolan Nihill.
Jay McDonald, Tyler Miles, Brandon Dimech, Mitch Billings, Tori Ferguson and Sam Keneally worked hard forteh Stacy Fiske-coached Hawks.
Lockington Bamawm United bounced back from its first defeat in many days to score a 159-48 victory at home against Elmore.
The Cats slammed on 9.3 to just three points in the opening term.
The Dylan Friedberger and Dylan Gordon-coached Elmore worked hard to match LBU across the next two quarters in which both teams added seven goals.
The Brodie Collins-coached Cats then blitzed in the final term, 8.5 to nil.
Anthony McMahon kicked five goals as Ben Fulford and Thomas Leech added four apiece.
Elmore had seven goalkickers.
Best for the Cats were Tyler Phillips, Nathan Bacon, Anthony McMahon, Riley McIvor, Thomas Leech and Marcus Angove.
Zack Holmberg, Jack Trewick, Liam Gundry, Regan Williams, Bailey Sawyer and Dylan Gordon played well for the Bloods.
North Bendigo had the bye.
Heathcote DFNL senior footy ladder:
Colbinabbin 201 per cent, 32 points; Lockington Bamawm United 186, 28; Mount Pleasant 170, 24; North Bendigo 130, 20; Heathcote 101, 16; White Hills 86, 16; Elmore 65, 8; Leitchville-Gunbower 38, 4; Huntly 55, 0.
Leading goalkickers:
41 Ben Weightman, MP.
32 James Brain, Colbo.
26 Jed Brain, Colbo.
24 Darcy Laffy, Elm.
23 Ben Fulford, LBU; Dylan Klemm, NB.
20 Matt Gray, NB.
19 Anthony McMahon, LBU.
17 Liam Bartels, WH; Jack Brooks, H'cote; Kai Cavallaro, H'cote.
16 Braden Padmore, H'cote; Rhys Woodland, LBU.
15 Laine Fitzgerald, Colbo.
14 Adam Baird, MP.
13 Cohen Kekich, WH.
12 Blake Azzopardi, LG; Jackson Conforti, H'cote; Bayden Fallon, WH; Billy Hawken, LG; Luke Moore, Colbo.; Tyler Phillips, LBU; Clint Shields, Colbo.; Stephen Tuohey, Colbo.
Match of the day in Saturday's 10th round will be North Bendigo against Colbinabbin at Hibo Hotel Oval in Atkins Street.
In other matches on the Queen's Birthday holiday weekend, Lockington Bamawm United takes on White Hills at Lockington, and Huntly and Heathcote clash at Huntly's Strauch Reserve.
Mount Pleasant and Elmore meet at Toolleen Recreation Reserve.
Leitchville-Gunbower has the bye.
Written by Nathan Dole.